More than 15,000 residents from 10 villages in Katha Township, Sagaing Region have fled their homes as regime troops torch houses after conducting airstrikes on civilian targets.
Junta forces burned houses in Moetar village, Tike Kone ward on Sunday and Monday after three days of intense clashes with local resistance forces nearby, according to local residents.
"Regime forces entered Tike Kone ward on Sunday, a day after resistance forces retreated following clashes. They continued to burn house until this morning," a representative of Katha People's Administration Group told The Irrawaddy on Monday.
Thousands of residents have fled to Katha town while many others are thought to be sheltering in forest and farmland, he said.
Heavy fighting erupted 3 to 5 kilometers from Moetar village on Wednesday when a combined unit of the Katha-People Defense Force and All Burma Student's Front (ABSDF) ambushed a military detachment of around 100 troops from Kachin State heading to the village.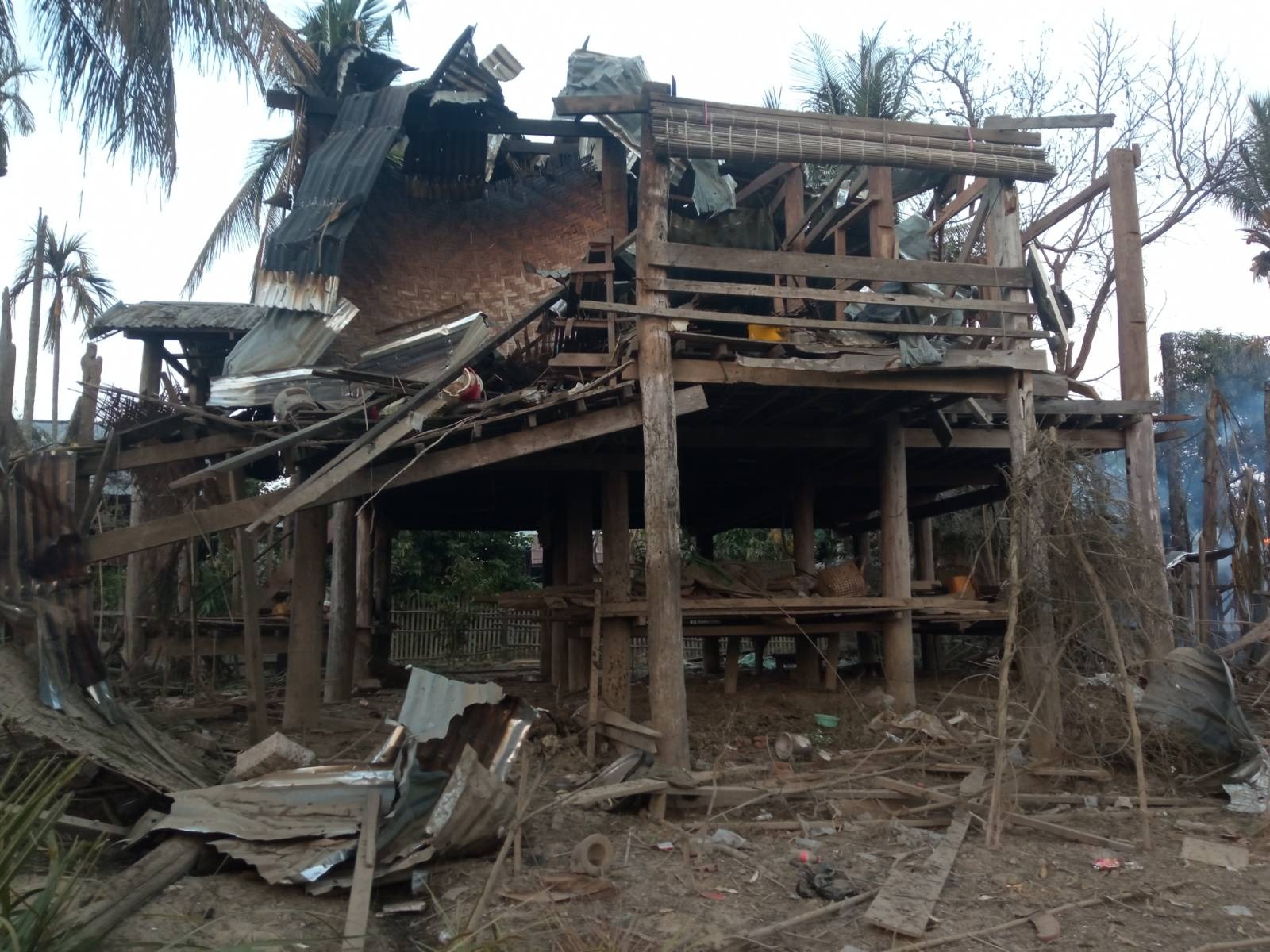 After suffering heavy losses in the clash, regime forces sent two fighter jets from the airbase in the Kachin State capital of Myitkyina to bomb both resistance fighters and civilian targets in Moetar.
The airstrikes killed eight villagers, mostly women, and injured 30 others.
The lethal attacks prompted several thousand residents of Moetar and surrounding villages to flee their homes.
The fierce clashes continued until Friday when regime forces deployed fighter jets and helicopter gunships to attack the resistance fighters while dropping reinforcements by helicopter.
Regime aircraft bombed the villages of Moetar and Nant San, which were also targeted by a junta artillery unit based in Katha town.
The combined attack left a father and child seriously injured, according to the Katha township People Administrative Group. The airstrikes also damaged the Nant San village school.
Thirty regime personnel including a military strategist were killed in the three-day battle, according to local media, citing resistance forces that took part in the fighting.
One resistance fighter was reportedly killed and three others wounded.
The Irrawaddy was unable to confirm the reports.
The Myohla PDF local resistance group last Thursday released video showing its members using grenade launchers and mortar shells in an intense clash.
Junta jets also attacked Moetar Village a year ago on January 12, killing or severely injuring five civilians including children, and damaging six houses.
Source: Irrawaddy