Myanmar's military carried out a series of airstrikes and artillery attacks on Wednesday amid clashes with anti-junta forces in several neighbouring Sagaing Region townships.
According to a local resistance group based in Khin-U Township,  three junta columns began raiding villages there and in the surrounding area last Thursday.
On Wednesday, fighting broke out following a raid on the village of Mone Hla in western Khin-U Township, resulting in multiple regime casualties, according to the information officer of the anti-regime Khin-U Support Organisation.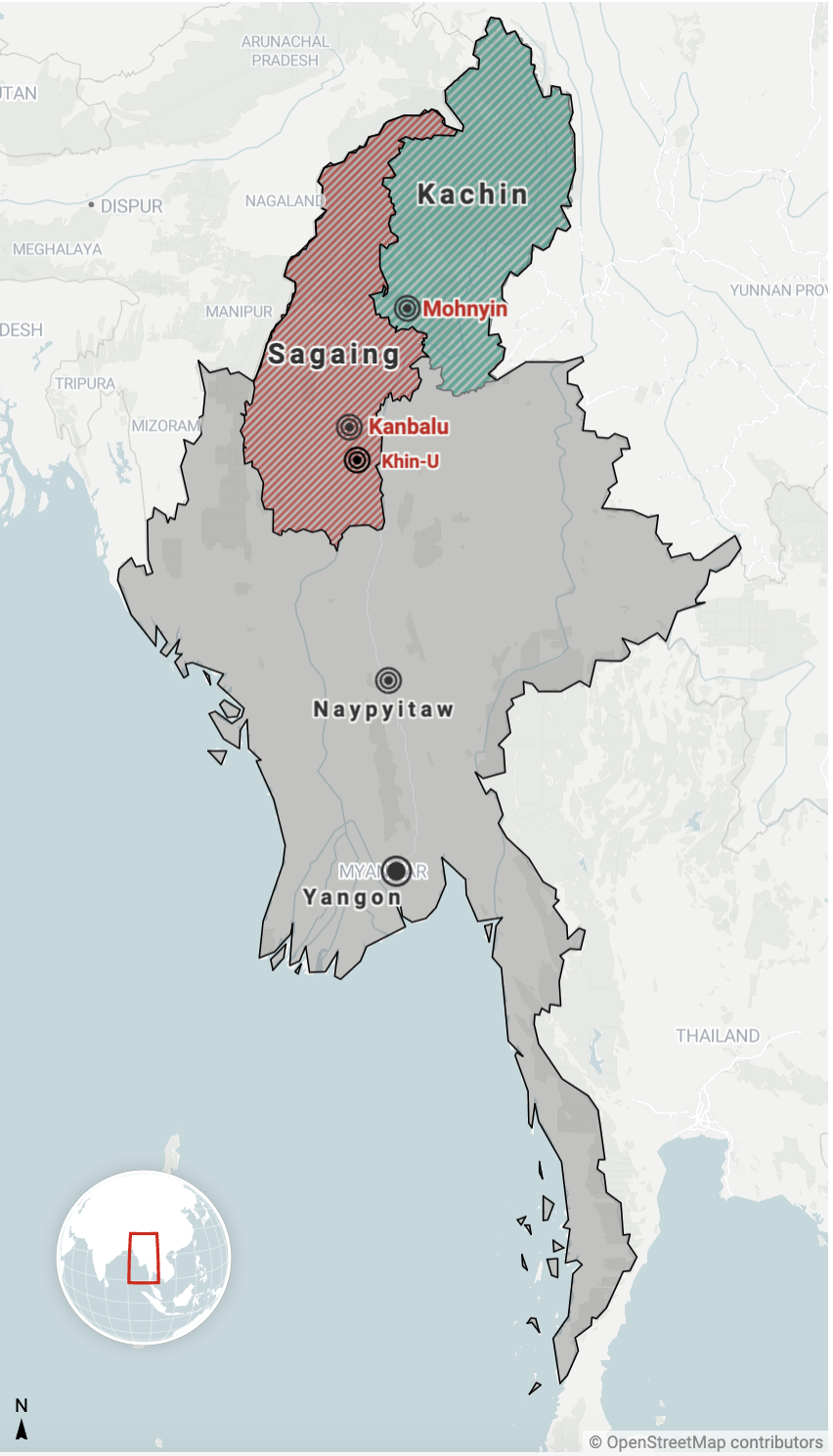 "At least 10 junta soldiers were killed during today's battle, so they retreated and started attacking us from the air," he said, speaking to Myanmar Now at around 5pm on Wednesday.
The airstrikes began at around 1:50pm and continued for about an hour, he added.
"There may be some casualties in the villages that were attacked, but we don't know anything for sure yet. Some of our reinforcement troops were also trapped there," he said.
According to locals, Mi-35 attack helicopters fired on several villages along the borders between Khin-U and neighbouring Kanbalu and Ye-U townships, including Mone Hla, Kyauk Taing, Kyi Su, and Pin Sein Khin.
The day before, a column of around 150 regime soldiers raided Kyauk Taing and Kyi Su—both located in Kanbalu Township—as well as Pin Sein Khin in Ye-U Township.
The troops were ambushed by local defence forces as they left the villages after torching the homes of residents who had fled, according to resistance sources.
Pin Sein Khin was also a target of arson attacks on Wednesday, as were the villages of Thauk Kan in northern Khin-U Township and Hna Nwin Taw in Taze Township, the sources added.
At least one person—a 40-year-old woman named Mya who had fled from her home in Mone Hla—was killed by artillery fire in Pin Sein Khin, according to a local source.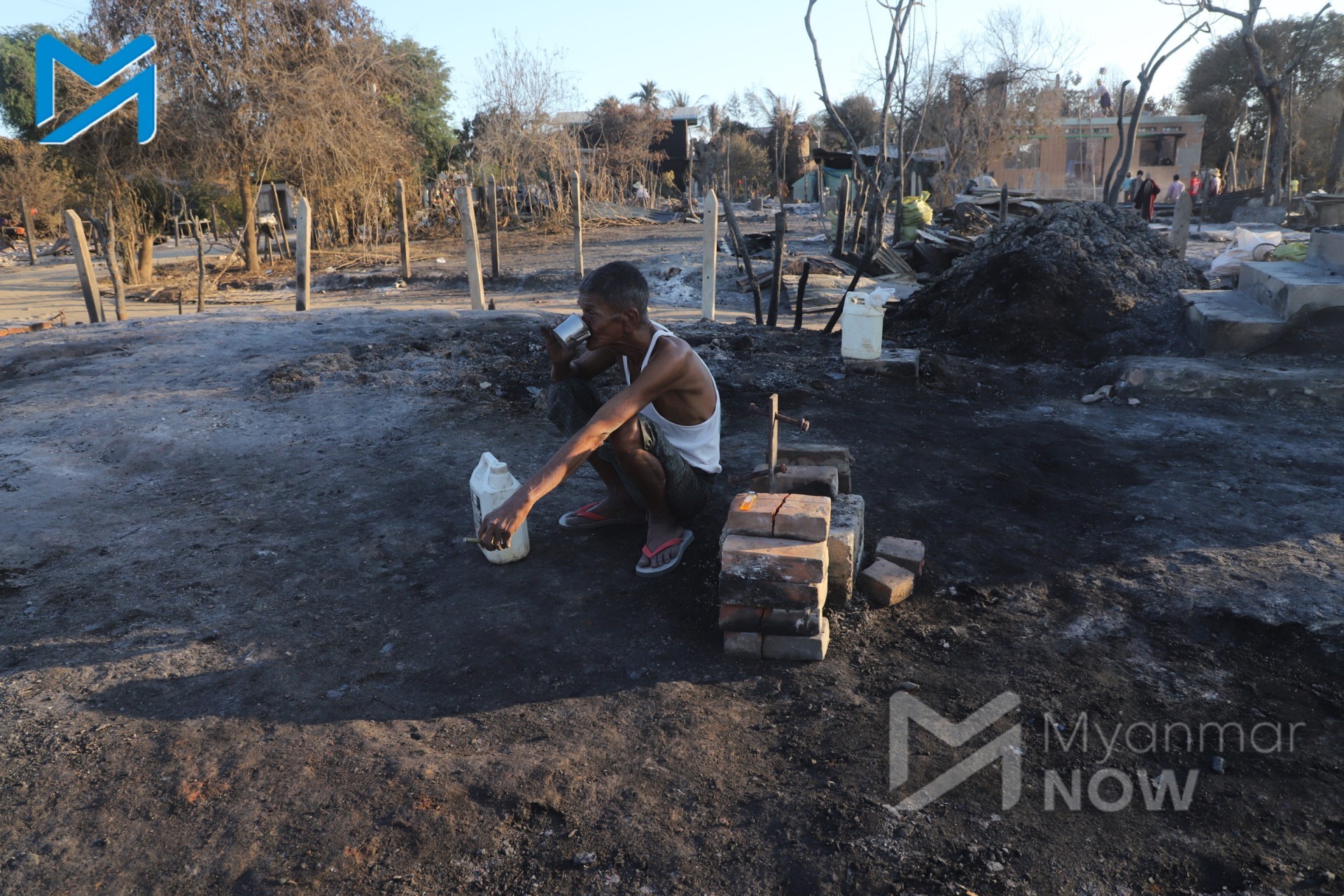 'Nothing there anymore'
In Kanbalu, local defence forces said they killed several soldiers in an ambush on Wednesday morning.
"We waited for them to come within shooting range and then attacked them with explosives and opened fire," said Wai Gyi, a member of a group called the Kanbalu Underground Warriors.
"One of the soldiers may have been a lieutenant, as they dragged him out of the battlefield while leaving the rest behind," he added.
Kyi Su, a predominantly Muslim village of around 1,000 households located about 40km south of the town of Kanbalu, has come under attack in the past. However, residents say the latest assault has destroyed what little was left of the village.
"There's nothing there anymore," one villager said on Wednesday. "Bamboo huts built after the first attack have all been burned down."
Attempts by defence forces to put out the fires in the village after the junta troops left resulted in an ambush by soldiers who stayed behind, according to Saw, a member of one of the groups involved.
"Some of our members went back in, but they were ambushed and some of them were injured. Two went completely radio silent," he said.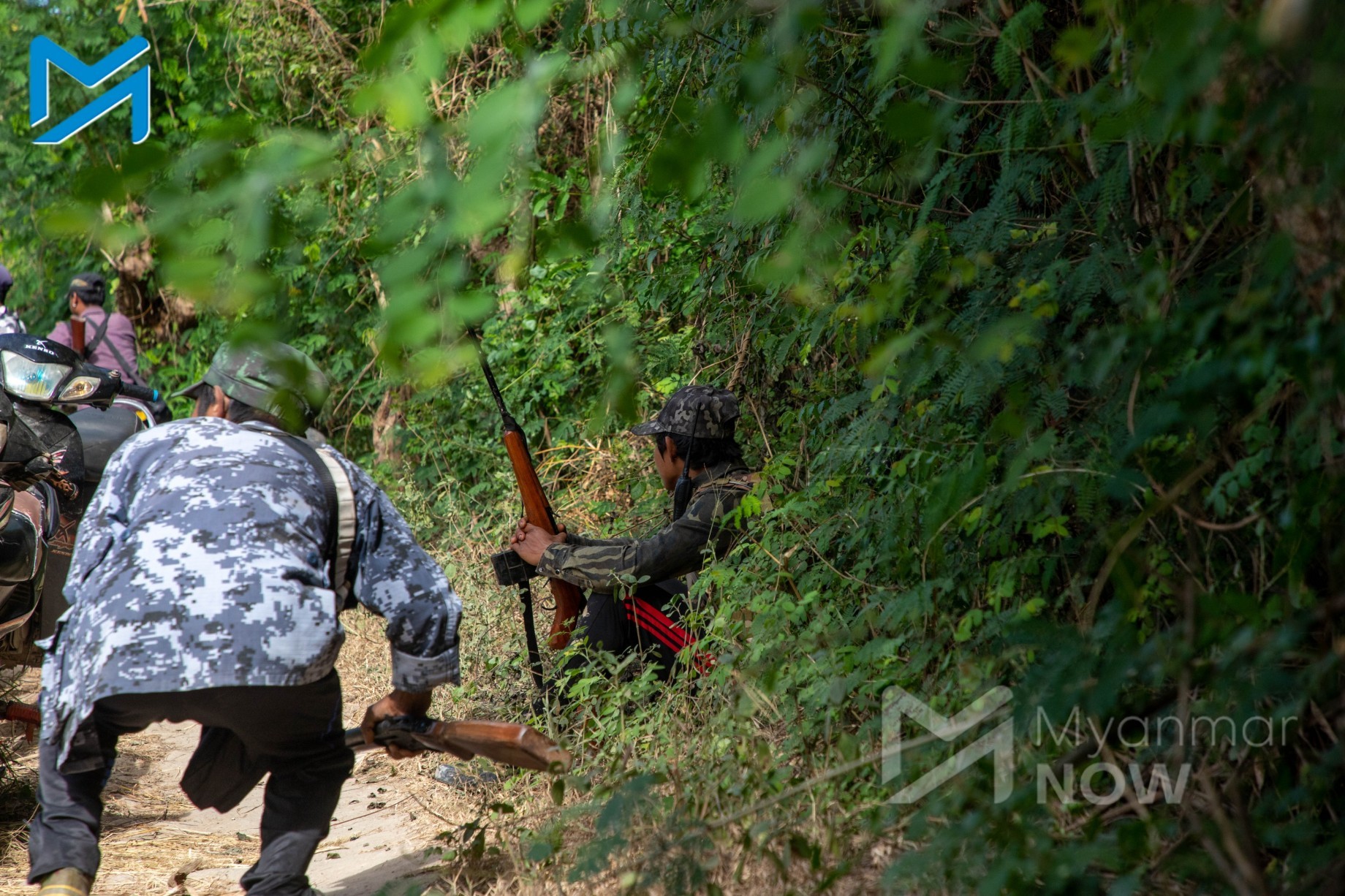 Worse than WWII
The regime has earned widespread condemnation for its scorched-earth tactics in Sagaing and other parts of Upper Myanmar where it has faced fierce resistance to its rule.
While most calls for accountability have come from ordinary citizens or international observers, criticism has also come from some close to the military.
Recently, Ye Htut, a former lieutenant colonel who served as information minister under the quasi-civilian administration of former president Thein Sein, wrote about arson attacks in Yesagyo, his hometown in Magway Region.
"The incidents that have taken place over the past year are enough to shake even a person who survived the Japanese colonial era," he wrote in a social media post, noting that even during WWII, civilian villages were not targeted for destruction.
In response, a Facebook user named Htin Aung Kyaw, who is believed to be a retired army officer, commented that Ye Htut shouldn't make such statements without providing solid proof.
Ye Htut replied that it would be easy enough to collect evidence through the country's human rights commission if witnesses were allowed to provide videos without fear of punishment.
Meanwhile, regime forces have also carried out airstrikes farther north in Sagaing Region in recent days, hitting targets in Indaw and Banmauk townships, as well as across the border in Kachin State's Mohnyin Township.
Several people were injured in the attacks, which began earlier this week after around 20 junta troops, including a battalion commander, were killed in a clash northeast of the town of Indaw last Friday, local resistance sources reported.
Source: Myanmar Now