Photos MAR NAW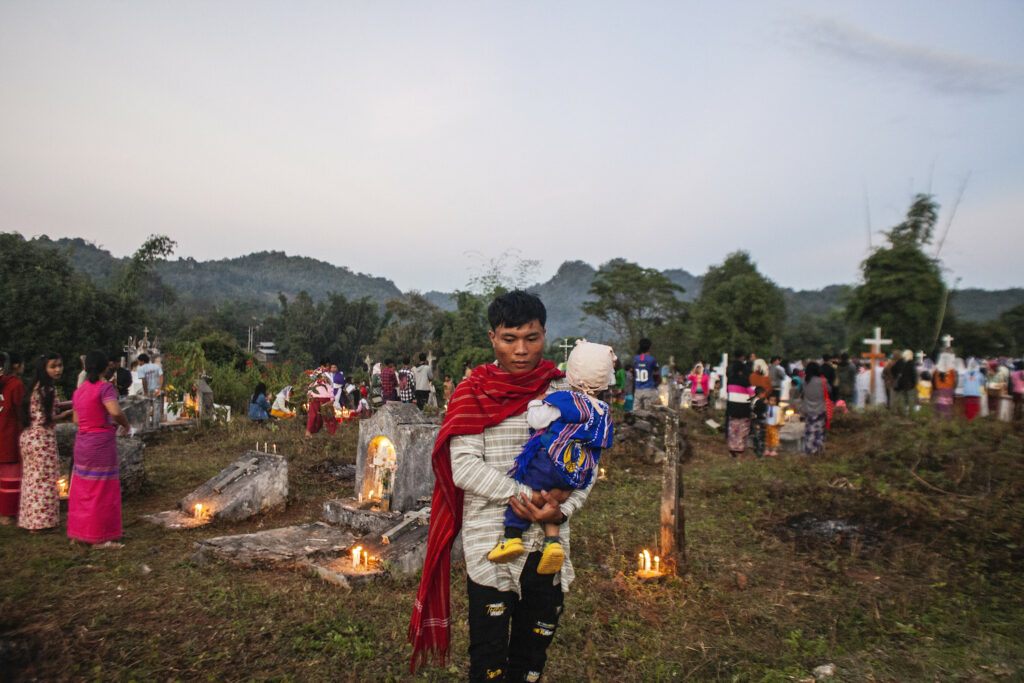 When 35-year-old Khu Reh arrived at the Christian cemetery in Kayah State's Demoso Township, he was carrying his four-year-old son and a bouquet of white Chrysanthemum flowers, which had featured heavily in his wedding.
"I come every November when the prayer is held and always bring my son. It's like seeing him with his mother and grandparents," said Khu Reh, who like many in Kayah is Roman Catholic.
In previous years, the family prayed for the souls of Khu Reh's parents, who both passed in 2015 – his father of a heart attack and his mother from illness. But in February this year, Khu Reh's wife was killed during clashes between the Myanmar military and the Karenni Nationalities Defence Force. Khu Reh says his wife was working her parents' rice fields when she was struck down by Tatmadaw fire.
"Before, it was me, my wife, and my son. Now it's just me and my son," he said.
Another thing has changed for Khu Reh – in previous years he travelled to the cemetery from his home, but now he travels from a camp for internally displaced people.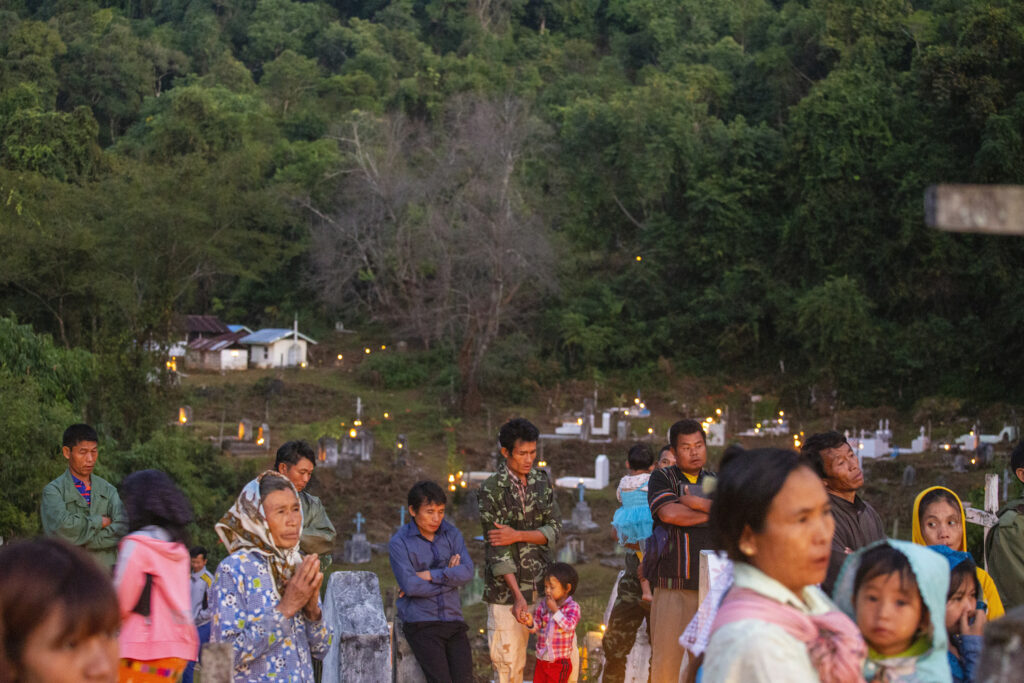 After the February 2021 military coup and subsequent brutal crackdowns on peaceful protests, armed conflict erupted across the country, with Kayah State emerging as one of the fiercest battlegrounds. As resistance forces gained ground in the state, taking control of much of the countryside and dismantling the military regime's local administration, the Tatmadaw responded with brutal force. The military has been regularly accused of killing civilians, destroying homes and blocking lifesaving aid.
Across the world, Catholics honour the dead in early November, in a festival known as All Souls' Day, or Día de los Muertos in Mexico. Here, the event is called the Prayer for the Spirits.
In Kayah, the deceased are often buried with traditional musical instruments. On the day of prayer, candles light up the cemeteries as a chorus of hymns floats through the air. In addition to a traditional Karenni prayer ceremony, visiting relatives also typically present their deceased loved ones with their favourite foods and reminisce about their fondest memories.
[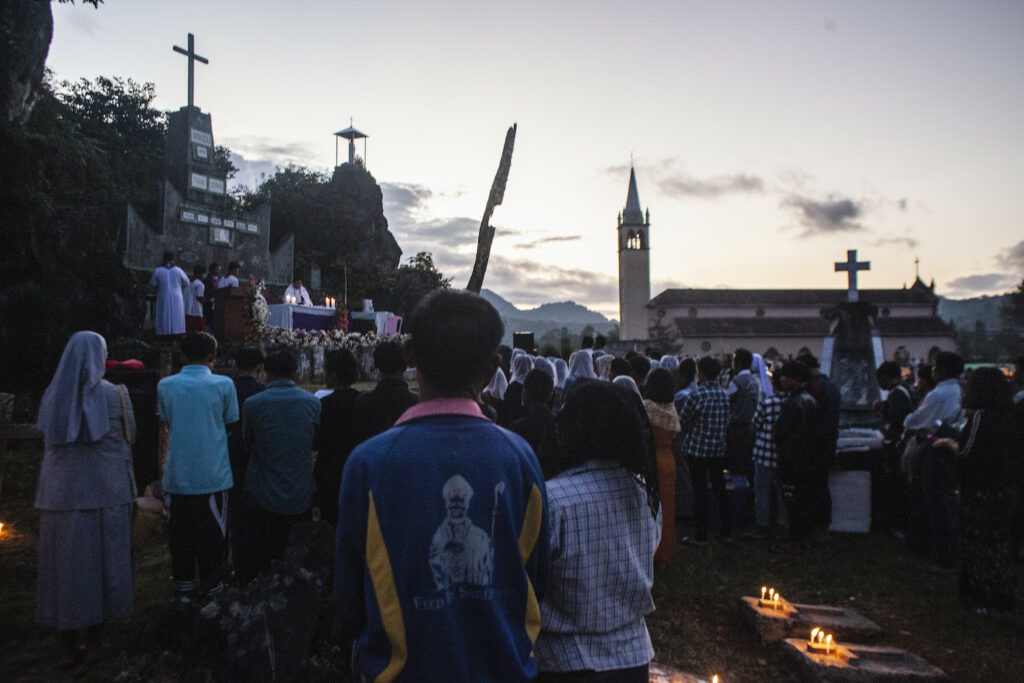 A priest from a Catholic church in Demoso, who asked to remain anonymous, also found himself in the IDP camp after his church was allegedly shelled by the military earlier this year. Targeting religious buildings is considered a war crime.
"The military council troops have been stationed at the church since it was hit by heavy weapons. They are still going in and out, so it's not possible to return," he said.
The priest said since May last year, eight churches have been damaged in Demoso, Loikaw and Pekon townships, the latter of which is just across the border in neighbouring Shan State.
"At Saint Peter's in Loikaw, the soldiers stormed the church and stole 20 lakhs in donations [nearly US$1,000]. These cases have not yet received justice," he added.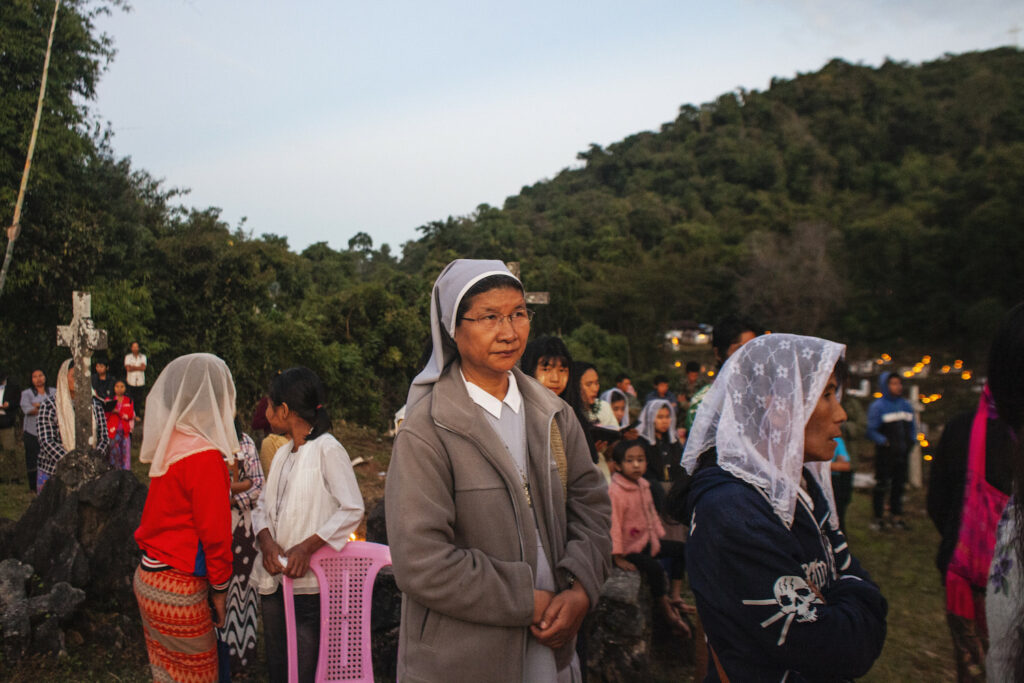 Despite the repeated attacks on their religion, more than 100 people gathered at the cemetery at around 5pm on November 2, including priests and nuns in headdresses. They came carrying bibles, candles, food offerings and flowers.
While in many ways it felt like the usual ceremony, the traditional prayers for the dead were imbued with a new revolutionary energy, as many of those being prayed over were civilians or resistance fighters killed by the military.
"Now, the relatives we are praying for are the ones who were killed during the military council's attacks," said one participant. "In this cemetery, there are more people who died from heavy weapons than from normal illnesses."
"We pray for the dead and we also pray for the fall of the dictator."