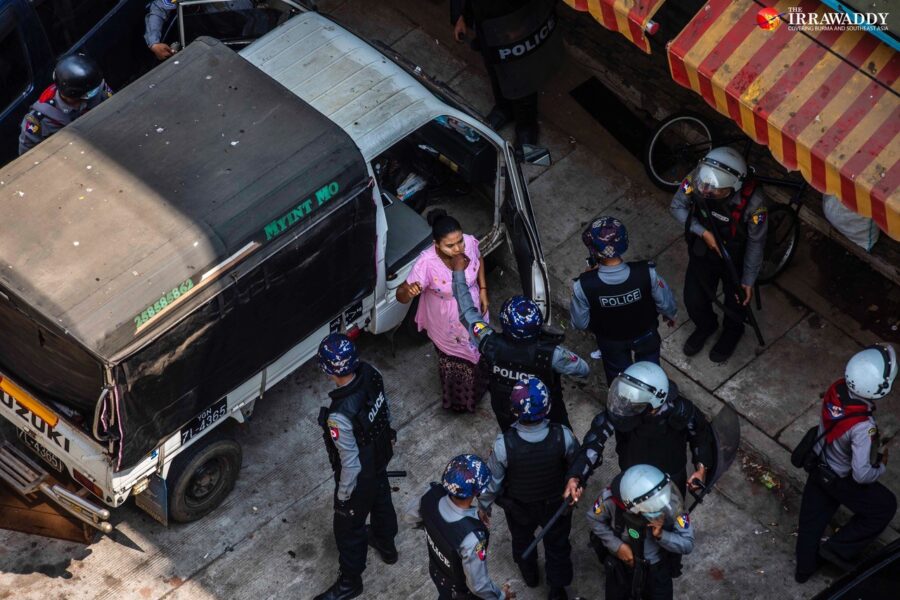 Myanmar's junta killed around 100 children and at least 89 women in the 10 months since the coup, according to the civilian Ministry of Women, Youths and Children Affairs of the National Unity Government (NUG).
The shadow ministry reported this week that 98 children were among at least 1,222 people killed by the regime's forces across Myanmar from Feb. 1 to Nov. 17.
Among the fatalities were a one-year-old in Mandalay and Khin Myo Chit, six, who was shot dead while sitting on her father's lap as troops broke into her house in Mandalay. Aye Myat Thu, 11, was shot in the head while playing in front of her home in Mon State's capital Mawlamyine and Salai Van Bawi Thang was shot dead by junta forces in Thantlang, Chin State. Htoo Myat Win, 13, was shot to death while playing near his home in Shwebo, Sagaing Region.
Mandalay Region saw the highest number of children killed with around 29 deaths, followed by Yangon and Sagaing regions with more than 12 children killed, according to the ministry's report.
Most of the victims were shot dead while playing near their homes or sheltering at home as soldiers and police opened fire randomly in residential areas. Some older children died at protests.
Children, including a one-year-old, were severely injured as soldiers and police fired indiscriminately during raids.
Children have also been killed and wounded by junta airstrikes on resistance strongholds.
The NUG's minister of human rights U Aung Myo Min at the World Congress on Justice with Children on November 18 accused the junta of targeting children.
"Children have been shot and killed in the street in the cities, arrested, detained and tortured and used as human shields in the military offensive in the ethnic areas. Children have also been taken as hostages to pressure family members to turn themselves in," the minister said.
He said children's rights are a priority in the NUG's international engagement at the United Nations and foreign governments.
Women's rights
At least 89 women have been killed by regime forces, the NUG's ministry reported this week.
The first fatality in the regime's crackdown on the protest movement against the military takeover was 20-year-old student Ma Mya Thwet Thwet Khine. She was shot in the head at a protest in Naypyitaw on Feb. 9.
Among the women killed are striking civil servants, teachers, students, medics and activists.
Women have been key members of protests against the junta since Feb. 1 and the armed resistance movement since it began in late March.
The civilian women's and human rights ministries released a joint statement saying the regime continues to use sexual violence as a weapon against women.
Last month, soldiers in Tedim, Chin State, gang-raped a 27-year-old who gave birth a month previously had not recovered from a difficult delivery.
In Shan State, a junta soldier raped a 62-year-old woman in Kutkai Township on November 7. The regime confirmed the rape case and said the soldier would be charged.
The ministries vowed to take evidence to the International Criminal Court and other international courts and tribunals to deliver justice for the victims.
Source:  THE IRRAWADDY