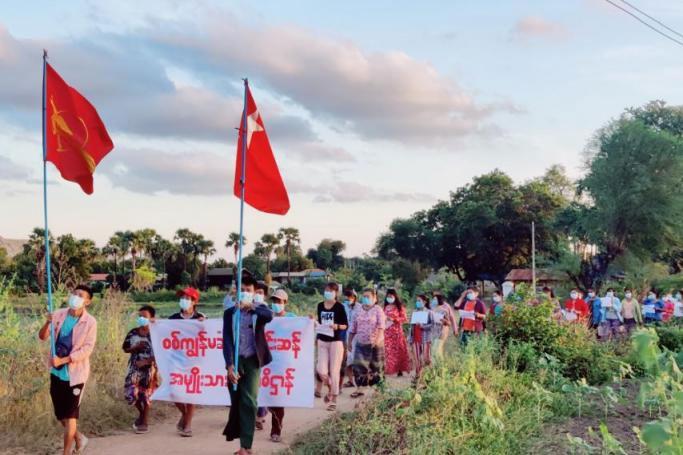 The Military Council
On Thursday, the junta newspaper said that 43 PDF members from 7 areas in Yangon Region and 8 supporters had been arrested.
On Wednesday, the 10th meeting of ASEAN-Canada economic ministers was held via video conferencing. According to the junta newspaper, Myanmar supported the discussion of negotiations for an agreement on ASEAN-Canada free trade.
The junta newspaper said that pilgrims from all over the country visited Bagan Nyaung-U ancient cultural zone on Wednesday, Tasaungdine holiday.
According to the junta Ministry of Health, students aged 12 and above were being vaccinated for the second time in states and regions.
In the junta newspaper, YMBA expressed condemnation of assassinations of government staff, teachers and children.
The National Unity Government (NUG)
According to the NUG, Myanmar's Permanent Representative took part in the discussion on adoption of the bill concerning the rights of Rohingya Muslims and other minority groups in Myanmar at the meeting of the 3rd committee in the 76th UN General Assembly.
As a response to accusations of the military junta, who have been committing genocide in Myanmar, Union Minister Dr. Sasa had an interview with the BBC.
The NUG announced that the military junta had been conducting violence against Myanmar people on a daily basis and thus, a state of emergency had to be declared. During the 70-day period from 7th September to 15th November 2021, there were 1474 public protests and 11 violent crackdowns in 97 townships of 12 states and regions. Moreover, there were more than 20 cases of unjust arrest.
The NUG released guidance on keeping prisoners of war for the People's Defence Forces. They also announced that such organizations must follow international warfare rules, regulations and criteria, including the Geneva Convention.
On Wednesday, the Ministry of Health-NUG expressed their strong condemnation against the military junta for arresting healthcare providers and social workers as well as for their attacks targeting hospitals and clinics.
Revolution Activities
In the lower rural community of Yebyu Township in Taninthayi Region, youth carried out an anti-junta movement on Thursday.
In the south of Kalay in Sagaing Region, the junta army was attacked with mines twice near the railway between Chinsai village and Zingale village on Thursday afternoon. Reportedly, no less than 10 junta soldiers died and the rest of them set fire to chicken farms and houses in the near-by village.
On Thursday, Tantsi Township General Strike led a march against the military dictatorship.
At about 8:00 am Thursday, the junta army raided Bintegone village in Wetlet Township and took away the public's belongings and food items.
On Thursday, a combined rally of Salingyi North and Yinmabin East protested against the military dictatorship.
In Katha Township, there was a battle between the junta army and a combined force of KIA+PDF near Chaung-Wa village group at about 3:40 pm Wednesday. Reportedly, 5 junta soldiers died and 2 others were seriously injured. According to local sources, a PDF member was slightly injured.
According to Kalay PDF, junta soldiers, who had taken control of a PDF camp in the west of Kalay, constantly shot mortars along the way on Thursday morning and moved to Nagabwet village together with their prisoners.
In Tigyaint Township, a military truck was attacked with mines near Tonelone on Thursday morning. Reportedly, the driver ran away and other junta soldiers did not move. As another military truck arrived, local PDF got away. Due to the attack, at least 5 junta soldiers died.
At about 11:00 pm Wednesday, 3 military trucks on their way back from patrol in Monywa were attacked with remote mines by Monywa Night King and Iron Group. Reportedly, one of them was damaged.
In a village of Shwebo Township, there was a march for the NUG and against the military dictatorship on Thursday.
In Gantgaw Township of Magwe Region, the junta army raided Kan village on Thursday afternoon and set fire to houses. According to local residents, no less than 5 houses were burnt down.
In the north of Myaing Township, a military convoy was attacked with mines by MVRF on Thursday. Reportedly, a truck of the military junta was damaged.
In Yesagyo Township, there was a parcel bomb attack at the house of a supporter and activist for the NLD on Wednesday night. According to a local source, a total of 4 people – 3 women and 1 man – died in the incident.
In some villages of Kamma Township, the junta armed forces placed posters containing 'PDFs under the NLD must be put to an end'.
On Thursday, a combined rally of Mandalay District and Chanmya Thazi students' unions hung an anti-junta banner in front of the regional law office.
In Mandalay, students and residents placed posters and scattered brochures against the military dictatorship on Thursday morning.
In Mandalay Region, a train carrying rations for the junta army near Pyawbwe was attacked with mines. According to local residents, carriages fell into a stream and 2 railway staff members died.
In Pekone on Shan-Kayah border, U Nyi Khin and young people, who had been helping the IDPs, were arrested by the junta army on 15th November. According to local residents, U Nyi Khin was killed during interrogation on Wednesday.
In Chin State, there were battles between a combined force of CNA + CDF and the junta armed forces invading a village near Hakha on 15th and 16th November. According to CDF Hakha, 3 junta soldiers died and 14 others were injured. Their ammunition and belongings were also confiscated.
In Pha-Kant, young revolutionists placed a poster calling on parents to take caution as sending children to school became a method for the military junta to use human shields.
In Kyaikto of Mon State, the chairperson and some members of a social rescue team were arrested by the junta armed forces.
Ethnic Armed Organizations
According to the KNU, there were 87 battles between a combined force of the junta army + BGF and KNLA/KNDO in Mutra District between 1st and 15th November. As for the junta army and BGF, they lost 69 members, including 2 officers, and 69 others were injured.
In Dweloe Township under the KNU Regiment (5), there were 7 clashes on 15th November alone. According to the KNLA, 9 members from a combined force of the junta army and BGF died and 9 others were injured. Moreover, 4 military trucks were damaged.
Summary on 18th November
In Kalay, there were heavy battles between the junta armed forces and local PDFs. The junta army used mortars in their attacks. There were also battles in other parts of Sagaing Region.
The military junta have been trying for months to regain control there. However, they could not make it yet. On the other hand, guerrilla attacks of local PDFs have turned into warfare activities.
As for Chin, Kayah and Kayin, they had battles in recent days. In Chin and Kayah, local defence forces were in the position of gaining influence in the areas.
Junta soldiers have been committing rape and stealing things wherever they go. For their crimes, legal action must be taken in the future including against responsible personnel who knowingly allowed them to do so.
Source: Mizzima