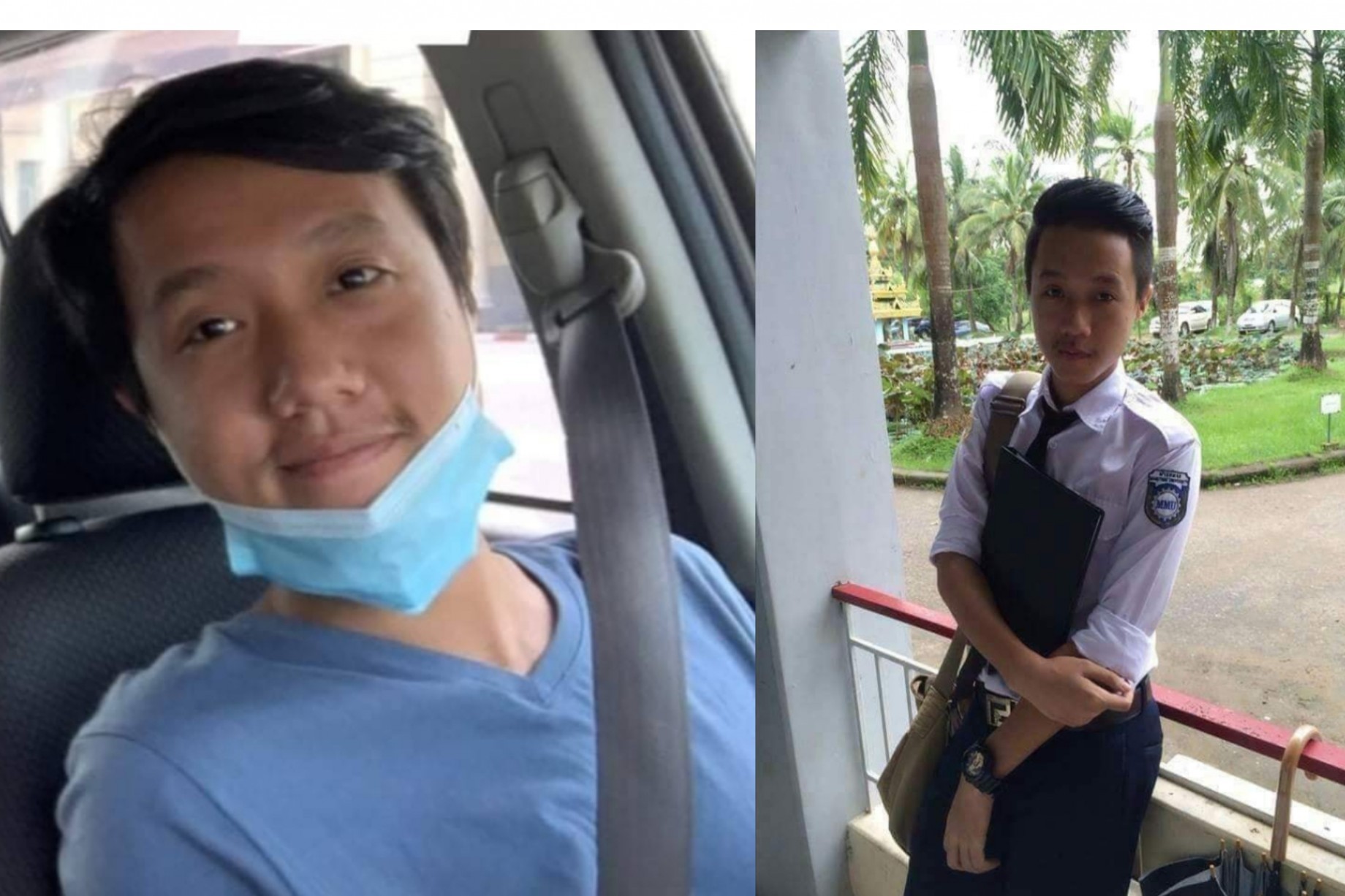 Soldiers fatally shot the father of an anti-coup protest leader late last month as he drove his car home after closing an electrical goods shop he owned in Yangon, a family friend has told Myanmar Now.
Myo Lwin kept driving when the soldiers pulled up near him in a military vehicle on Bo Aung Kyaw Road on October 28. The soldiers then drove after him and shot him from their vehicle.
"He didn't die on the spot," said a friend of Kaung Sett, Myo Lwin's 20-year-old son. "He was wounded and was taken by them. I don't think they provided medical attention for his injury. They called the family the following morning saying that he had died."
A few days later on November 3, Kaung Sett was arrested at a checkpoint on the way out of Yangon along with his friend, Wai Tun. His family have not heard from him since.
Junta forces also detained Kaung Sett's uncle, Myo Thet Tun, at his home on November 1 even though he was said to have had no involvement in anti-coup protests.
"His uncle was not a part of any movement," said Kaung Sett's friend. "His arrest was announced on TV as well."
Eleven others were arrested on the same day as the uncle on suspicion of being part of the armed resistance movement, while another person was arrested the following day.
The others who were arrested are: Naing Ye Tun, Lin Htet San, Nanda Aung Lin, Zin Min Htet, Min Hein Khant, Hsu Myat Htwe, Zin Ko Hein, Ye Lin Aung, Phan Mhue Eain, Maung Myo, Chit Pone and Aung Naing Oo.
Most of those detained were aged between 17 and 30. The junta said it seized weapons during the arrests and has accused those detained of carrying out bomb attacks and assassinations in Yangon as members of underground organisations including the 44st UG guerrilla group.
The group was formed after two people died and three were badly injured jumping from a third storey apartment on Yangon's 44th Street in a bid to escape from junta soldiers in August.
With the exception of the uncle, those arrested were active in the anti-coup protest movement, said Kaung Settt's friend.
Kaung Sett took part in regular flash mob style protests against the junta as part of the General Strike Committee and the Pazundaung-Botahtaung Youth Strike Committee. Such protests have continued on at least a weekly basis in Yangon despite murderous crackdowns by soldiers.
On October 31, Kaung Sett's mother placed an announcement in a state-owned newspaper saying the family had disowned her son.
The junta has killed at least 1,252 civilians as of Wednesday, while 7,091 people remain in junta custody, according to the Assistance Association for Political Prisoners.
Source: Myanmar Now