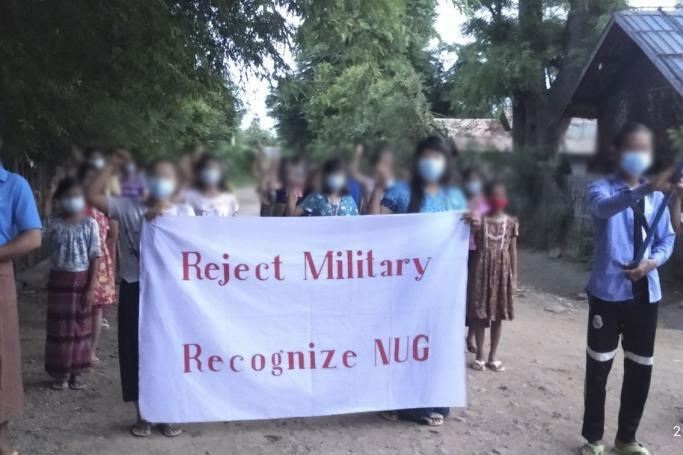 The Military Council
The junta newspaper said that about 70 PDF members opened gunfire and set fire to houses in Madaunghla village of Khin-U Township in Sagaing Region.
The junta Ministry of Foreign Affairs strongly condemned the activities of ASEAN (representation, attending ASEAN meetings and doing without consensus) against the principles contained in the ASEAN Compact and their objectives.
The military junta announced that flights from Yangon to Kalay and from Yangon to Kawthaung were resumed after suspension due to COVID-19.
According to the junta newspaper, students aged 12 and above in Yangon will get vaccinated starting from Sunday.
According to the junta newspaper, border trade camps in Rakhine State were reopened after suspension for months due to COVID-19.
The National Unity Government (NUG)
The public has been taking part in the People's Defensive War. According to the NUG, there were attacks at 23 military targets of the enemy, 14 administration targets and 2 business targets on Friday.
Ministry of Human Rights- NUG announced soldiers' rules and code of conduct related to the People's Defence Army.
Revolution Activities
In Taungpyaut area of Thayetchaung Township in Taninthayi Region, over 5000 residents of 9 villages have had to run away since September due to violent activities of the junta army. Reportedly, they are in urgent need of food and medicine.
In Yebyu Township, the lower rural community protested against the military dictatorship on Sunday.
On Sunday, Mandalay Monks' Union led an anti-junta movement, reciting Parittas.
In Mandalay, Cooperative University students, Mandala University students, engineers, Seinban rally and Mandalay Variety Forces expressed their objection to the military dictatorship on Sunday.
A rally of Mandalay District Students' Union (Ba-Ka-Tha Central) marched up to Manawhari road and expressed their desire against the military dictatorship on Sunday.
On Sunday, a combined rally of various forces and Mandalay LGBT took to the streets, chanting anti-junta slogans.
On Saturday, Mandalay Monks' Union conducted a night strike against the military dictatorship.
Due to the pressure of the military junta, the abbot had to leave Sinphyuchat charity school in Kyaukse, the second-largest monastic education centre in Mandalay Region.
As 221-day protest, a combined rally of Salingyi North and Yinmabin East marched against the military dictatorship on Sunday.
In Shwebo Township, local people expressed their desire for the end of the military dictatorship on Sunday morning.
On Sunday morning, Kalay people and students marched for the downfall of the military dictatorship.
In Yonebingone of Wetlet Township, U Ye Tun went around the village, explaining that despite being a former advocate for USDP, he was no longer with any political parties.
In North Dagon Township of Yangon Region, youth protested against the military dictatorship at about 6:00 am Sunday, burning tyres and chanting anti-junta slogans.
In Kyauktan Township, MyTel telecom tower in Tarpa village was blown up by local PDF at about 8:24 pm Saturday.
Dr. Shwe Pone, Deputy Minister of Health- NUG, said that the junta armed forces came to her house on 12th October and told family members that the house would be sealed off.
On Saturday, General Strike Coordination (GSCB) announced their strong condemnation against 8 organizations that had attended the event of NCA 6th anniversary, organized by the military junta.
In Phyapone Township of Ayeyarwaddy Region, MyTel telecom tower in Ward (16) was blown up by a group of unknown people at about 1:00 am Sunday.
In Chaungsone of Mon State, the administrator of the western ward was killed. After the incident, the junta armed forces made a strict inspection in villages. According to local PDFs and residents, about 30 villagers were arrested.
On Saturday, the Myanmar Major Students' Association Upper Myanmar sent a letter to the Ministry of Education- NUG, calling for the removal of the national literacy award-winning novel 'Flapping of the Flamingo' from the curriculum.
Ethnic Armed Organizations
In Monekoe of Shan North, there was fighting between MNDAA and the junta army at about 6:00 am Sunday.
In the area of Muse Township under the control of KIA Regiment (6), there was a battle on Saturday afternoon.
KNU (Central) announced that there were 92 battles between the junta armed forces and local defence forces from 1st to 14th October. Reportedly, 126 junta soldiers died.
Summary on 18th October
The military junta strongly objected to the decision of ASEAN that they were not allowed to join the ASEAN Summit. On the other hand, China turned a blind eye to them. Therefore, they were like the fish out of water in the international community.
In the country, the military junta has been trying to weaken the revolution in various ways. They have also been putting efforts into resuming local tourism after suspension due to COVID-19, to distract the public. Like killing two birds with one stone, they will probably use the old trick by conducting bomb explosions in times of travel and accusing PDFs of doing so.
In Shan North, there were heavy battles against KIA and MNDAA. In Sagaing, Chin, Kayar and Kayin, such news was not heard on Sunday. Due to mobile and internet blackout in those areas, the news might not come up regarding battles and extreme oppression of the junta armed forces.
As for Sagaing, Mandalay, Yangon and Ayeyarwaddy regions, they had guerrilla protests as well as guerrilla revolution and clearance activities of junta informers.
Source: Mizzima