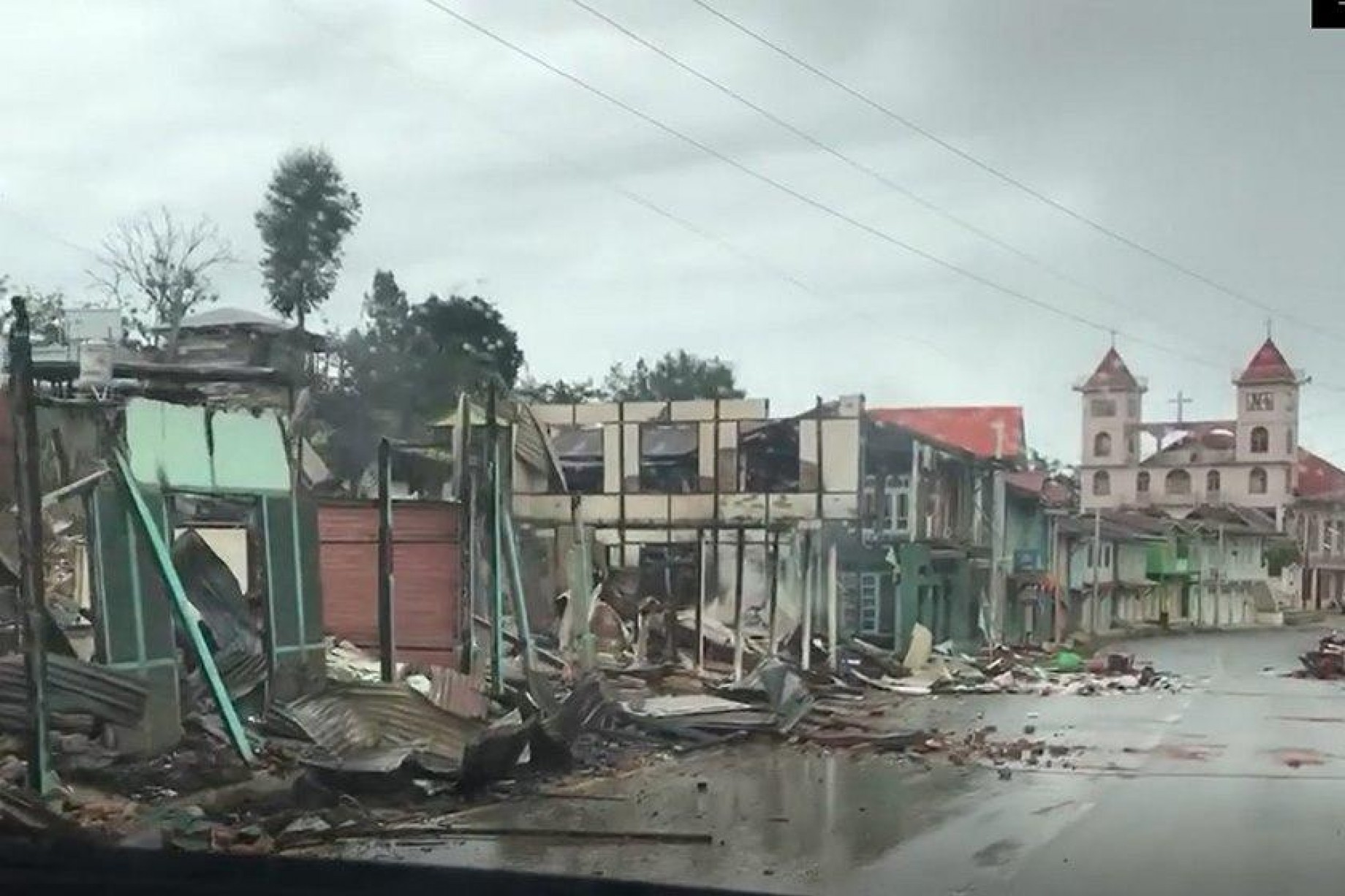 A 25-year-old man bringing food to his sister in Thantlang, Chin State was shot in the arm by junta soldiers on Wednesday, according to the Chin Human Rights Organisation (CHRO).
The man, whose name has not been made public, managed to escape the town after getting shot at around 11:30pm, a local said. He was travelling by motorbike to the home of his sister, who has an intellectual disability.
"She stayed there as she was not fit to flee the town, given her mental state. Her brother was sending food supplies to her," the local said.
The local added that after getting shot, the brother had hitchhiked to a village in the Myanmar-India border area and was getting medical treatment for his injury there.
In their statement on the incident, CHRO explained that other locals who had returned to Thantlang to get supplies had been shot or chased away by the military.
On September 30, two Thantlang elders—Ral Thu, 70, and Hram Cung, 60—were shot and killed by the junta and two more men were injured as returned to the town after attending a dialogue with religious leaders about addressing the needs of the displaced in the Chin State capital of Hakha.
Myanmar Now has not received a response from the junta's information officers regarding requests for comment on the shootings or the continued occupation of Thantlang.
A spokesperson from the anti-junta Chinland Defence Force (CDF) told Myanmar Now that only around five residents were believed to still be in Thantlang at the time of reporting.
The CDF last attacked military units on patrol in Thantlang on September 27, killing five troops. Since then, battles in the township have deescalated, the spokesperson said.
"They haven't made any moves yet. We're monitoring each other closely right now," he added.
Junta artillery fire on the town on September 18 destroyed several homes, and the military torched several more. Soldiers also shot dead Cum Biak Hum, local pastor, and cut off his finger to take his wedding ring.
When the news of the pastor's killing spread online, junta information officer Gen Zaw Min Tun said on September 21 that he had been hit by a stray bullet and that the military was "looking into" his death.
A report published in military-run media on September 26 suggested that members of the local anti-junta People's Defence Force had taken the pastor's ring and watch.
Thousands of people fled Thantlang after the fighting on September 18, taking shelter in nearby villages along the India-Myanmar border, and others crossing into India's Mizoram state.
Source: Myanmar Now