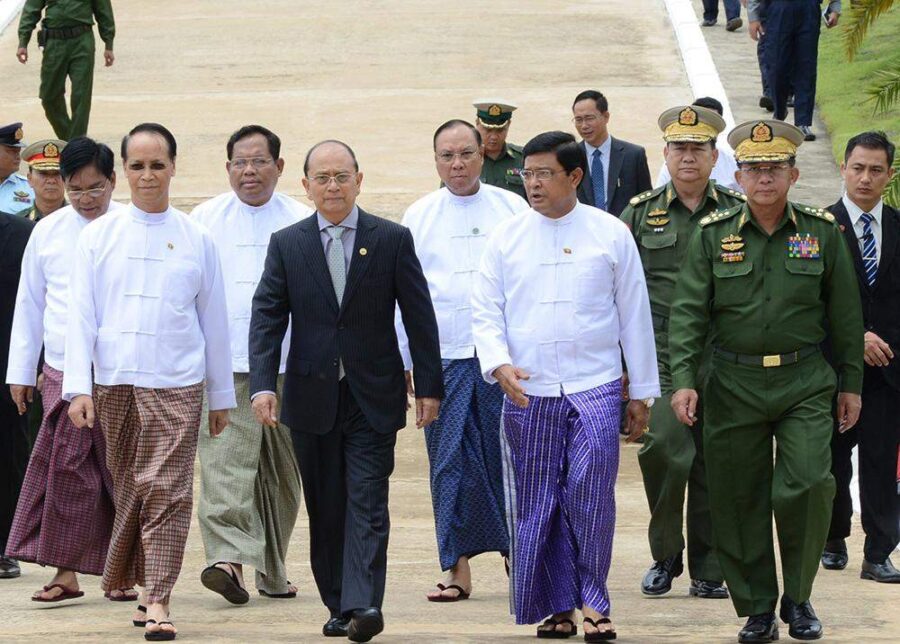 Are all the military dictators around the world starry-eyed, or is it only the case with Myanmar's coup leader and military chief Senior General Min Aung Hlaing?
"Myanmar has opportunities to be at the top of ASEAN in the next 10 years," Min Aung Hlaing said with confidence at a recent meeting with his subordinates. To many in Myanmar, such an ambitious claim—like the general's previously announced plan to develop a subway and electric bus system in Myanmar, where blackouts and brownouts are frequent—is little more than a bad joke.
He was at it again recently, urging Myanmar people to reduce their oil consumption from the national average of more than 36 pounds (16.3 kg) per year, ostensibly for health reasons. Edible oil imports total about 800,000 tonnes a year, most of it palm oil, according to figures from 2018.
The coup leader's suggestion was picked up by the junta-controlled newspapers Myawady, Kyemon and Myanma Alin, which published articles and slogans about the disadvantages of edible oil. On Oct. 1, Kyemon (The Mirror) went further, arguing in a victim-blaming editorial that Myanmar's imports of edible oil have only increased year by year because Myanmar people choose cheap products over their health.
Myanmar people know that Min Aung Hlaing asked them to reduce oil consumption not because he is concerned about their well-being, but because his regime is short of hard currency and does not want to spend US dollars on oil imports. From previous experience, Myanmar people know that generals and ex-generals—aside from being supremely arrogant—love to spout absurdities and have no sympathy for the people.
Union ministers in ex-general U Thein Sein's quasi-civilian government were known for their controversial remarks.
Former Lieutenant General U Myint Hlaing, who became the Union minister for agriculture and irrigation in U Thein Sein's administration formed by the military's proxy Union Solidarity and Development Party, once told farmers to "skip a meal" in order to pay back the agricultural loans provided by the government. He was henceforth dubbed "one-meal Myint Hlaing."
In 2012, U Ko Ko Hlaing, an adviser to U Thein Sein, drew criticism and became the subject of satirical cartoons after telling Myanmar people who protested blackouts to use candles for light. His remark earned him the name "candle Ko Ko Hlaing." He is currently the international cooperation minister in the so-called interim government formed by the military regime.
Former Lieutenant General Ohn Myint, who became the Union minister for livestock, fisheries and rural development in U Thein Sein's administration representing the USDP, was also notorious for his rude remarks to rural residents in Magwe's Taungdwingyi Township. When villagers asked him if he could ensure the village would have access to potable water, he flew into a rage.
"If you want clean water, you have to live in a place that has clean water. Don't live here. I have been around this country and I have said in my speeches that I dare to slap anyone in the face. Is it clear?" he told the villagers, adding that he was ready to throw the government's critics in jail. People staged demonstrations against his remarks and U Ohn Myint was even mimicked in movies. No wonder he earned the nickname "Slapping Ohn Myint".
Like his ministers, President U Thein Sein himself was prone to saying strange things. In 2014, he urged Myanmar people to consume milk instead of alcohol. Some netizens jokingly responded by saying that his remarks had seriously affected the liquor market in Myanmar. The logic behind the president's suggestion was simple: he thought large numbers of crimes in Myanmar were committed under the influence, and that alcohol-related crimes could be reduced if people switched from booze to milk.
Over the past eight months, the coup leader has issued several unrealistic instructions, such as to grow bananas for nutrition, produce herbal remedies for COVID-19 and establish a metro system and run electric buses.
He is walking testimony to the fact that in Myanmar,  generals—whether active or retired—tend to utter absurdities and nonsense.
Source: THE IRRAWADDY