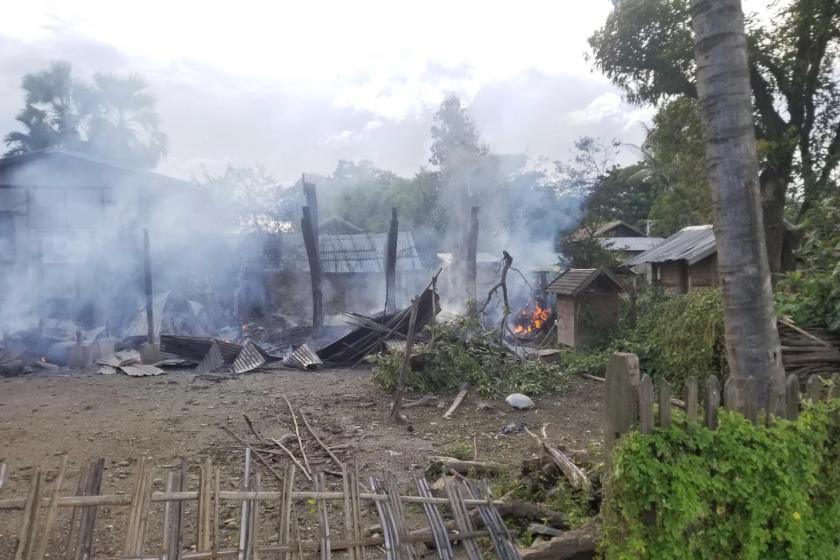 Soldiers have set fire to houses in two villages in Sagaing Region's Pale Township in recent days after junta forces suffered heavy losses during several ambushes in the area, resistance fighters have said.
Thurein, who identified himself as a battalion commander from the Pale People's Defence Force (PDF), said troops have been stationed at Yaynan Mhaw village since Monday and that they torched five houses in the village from 11am Tuesday.
"The fire's still burning as we speak," he told Myanmar Now on Tuesday morning. "They torched the village on purpose. They actually started firing shots randomly at dawn. The fire has been burning for 30 minutes now. We can see the flames as well."
He added that soldiers set fire to around 15 houses in Khin Aye village, in the northern part of Pale, on Monday. "We can't get detailed information yet because the military is stationed there," he said.
On Sunday a joint force of resistance fighters from the PDF and a local group called the People's Revolution Army (PRA) used landmines to attack a convoy of vehicles carrying some 300 junta troops near Sagaing's border with Magway Region.
The PRA said 61 junta troops were killed in two clashes in the area that morning.
The leader of the Pale PDF, who goes by the name Naga, said that a separate attack on Monday targeted a convoy carrying 80 soldiers and destroyed five military vehicles.
"The military vehicles were torn apart and the soldiers in that column died horrible deaths," he told Myanmar Now. "Many were injured as well, I heard. Our comrades are quite happy at that news."
Eleven resistance fighters used 27 mines to attack the convoy, which contained seven armoured vehicles and several tanks, before swiftly retreating, he added.
The area where Sagaing borders Magway in Pale Township is covered in woodland, leaving the military at a strategic disadvantage.
Myanmar Now has been unable to independently confirm the number of casualties from the recent ambushes. The junta has not commented on the attacks.
More than 2,000 people from the villages of Wun Pyin, Lethama, Khin Aye and Yaynan Mhaw have fled their homes amid violence in the region, a resident of Wun Pyin told Myanmar Now on Tuesday.
An artillery shell fired by junta forces destroyed a house in Wun Pyin on Sunday and soldiers then ransacked other houses, he added.
"They ransacked houses and destroyed shops. A house burned down after getting hit by a shell," he said.
A 50-year-old farmer from Lethama, which is a mile west of Wun Pyin, was shot and killed by soldiers while feeding his cows, he said, though he did not know the farmer's name.
Residents of Htei Hlaw village in neighbouring Gangaw Township returned home on Monday to find nine houses burned and the charred remains of an unidentified dead person.
Sagaing, along with neighbouring Chin and Magway, has seen some of the fiercest armed resistance by locals against the junta since the February 1 coup.
Fighting there has intensified since September 7, when the underground National Unity Government declared a "resistance war" against the coup regime.
Source: Myanmar Now