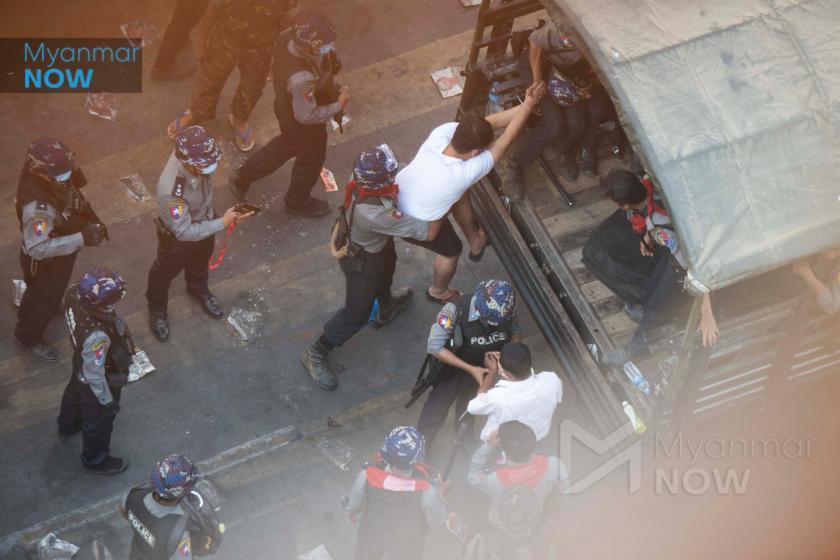 A 50-year-old motorcycle taxi driver from Yangon's Mingaladon Township who was arrested by the military on October 1 died two days later while still in their custody, according to local junta authorities.
The military did not notify the family of Kyi Sein, from San Gyi Wa ward, of his death nor did they return his body to them. Instead, they cremated him covertly on Sunday.
Zaw Min Khaing, the administrator for San Gyi Wa ward, told Myanmar Now on Monday that military officials informed him that Kyi Sein's cremation had taken place at Yay Way cemetery one day earlier.
"The station commander from the cantonment in Mingaladon Township called me and said that [Kyi Sein] had died at the military hospital and that he had been cremated and ordered me to tell his family," he said.
"We only heard that he had gotten arrested and that he had died. We heard nothing else," Zaw Min Khaing said of the ward administration office.
Another resident of San Gyi Wa ward said that locals had been told that Kyi Sein actually died at the military's Yay Kyi Ai interrogation centre.
He claimed that the victim was arrested when he went to meet someone at a bus station in Mingaladon on the morning of October 1 after receiving a phone call requesting that he do so.
The resident speculated that Kyi Sein was set up.
"It was a bus station, so there were a lot of motorcycle drivers there. Those who are also from our ward notified us when he got arrested. I asked around and found out that he was at the Yay Kyi Ai interrogation centre," he said, adding, "He didn't personally take part in the protests but he had been helping the youth protesters."
He continued that Kyi Sein had been doing volunteer work as well as helping Covid-19 patients get oxygen supplies during the third wave of the pandemic.
Kyi Sein is survived by his wife, adult daughter and a 17-year-old son.
Myanmar Now tried to contact both the victim's family and military council spokesperson Gen Zaw Min Tun, but the calls went unanswered.
According to Monday's report from the Assistance Association for Political Prisoners (AAPP), at least 1,158 civilians have been killed by the junta since the February 1 coup. The military council has dismissed the AAPP's figures as "exaggerated."
Source: Myanmar Now