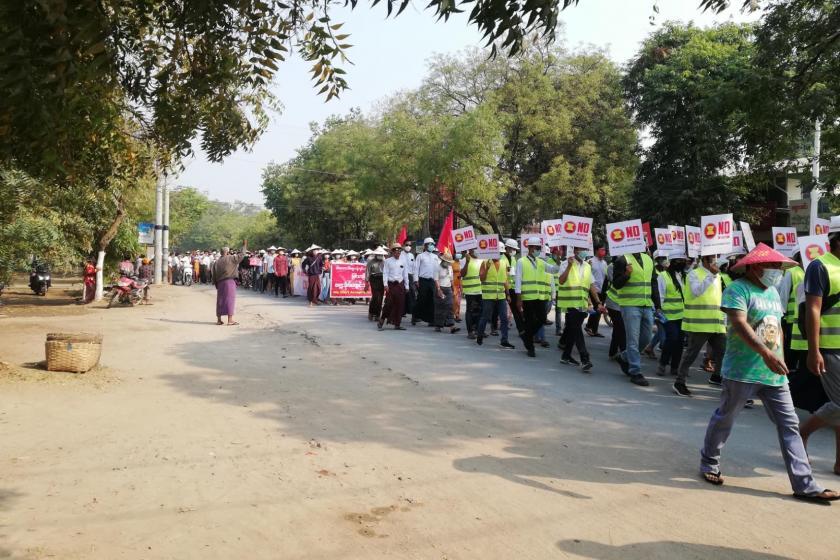 Three civilian bystanders were reportedly arrested after a bomb exploded at the local office for Military Security Affairs, commonly known as the military intelligence office, in Mandalay Region's Myittha Township on Sunday evening.
Myittha locals told Myanmar Now that they heard a loud bang from the park in Shwe Thahtay ward at 8pm followed by continuous gunfire, and that troops started carrying out searches throughout the town shortly after.
"Around three pedestrians that were near the scene got arrested," a local man said on the condition of anonymity.
He continued that he did not know the extent of the damage in the blast.
Myanmar Now has been unable to confirm whether anyone was injured or killed in the attack, and the military council has not released a statement on the incident.
The Myittha People's Defence Force (PDF) published a statement claiming responsibility for the blast on the same night that it occurred, describing it as a warning to military intelligence officer Lt Zaw Myo Hteik, and police inspector Hlwan Moe—a member of the Special Branch of the police force—both of whom they alleged had been terrorising locals.
"They'd arrest random pedestrians and hit them with batons and make them do push-ups in the office. We simply wanted to warn them to stop doing this," an officer in the Myittha PDF said on Monday.
"They searched the entire town last night and three innocent civilians were arrested. We're sorry about them getting arrested because of us," he added.
Source: Myanmar Now