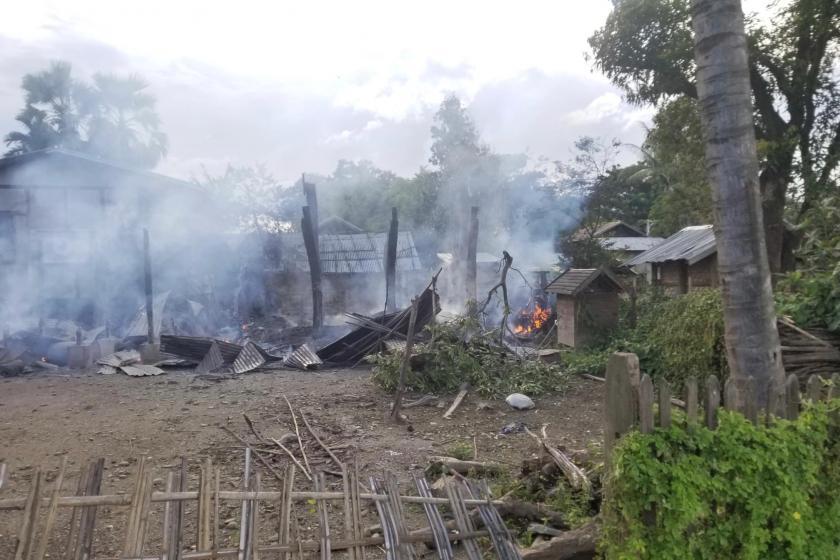 A village in Magway Region's Gangaw Township was raided for the fifth time since June on Wednesday, according to residents and resistance fighters based in the area.
Residents of Hnan Khar said the village was shelled for a full hour from around 9am before regime forces arrived and set fire to eight houses a few hours later.
The barrage appeared to be aimed at flushing out resistance groups operating in the area.
"They kept firing into the forest and areas where we were engaging in defensive warfare. They also used machine guns," said a member of a local People's Defence Force (PDF).
According to the PDF member, there were no clashes in the area before the attack, but 15 soldiers traveling south towards the village had recently been killed by landmines.
He added that besides burning down houses, the troops who raided the village also stole eight motorcycles and abused some elderly people who were taking shelter at a monastery in the eastern part of the village.
"They threatened some feeble old people, took their phones, and also broke some things at the monastery," he said, adding that one 60-year-old man was beaten and arrested.
However, a Hnan Khar resident said the man later escaped after five soldiers belonging to the unit that was holding him were killed by landmines about three miles from the village.
"The landmine attack gave the old man a chance to get away. He managed to make it home," the villager said.
The military has not released any statement regarding its latest attack on Hnan Khar, and Myanmar Now has been unable to independently confirm reports of casualties among regime troops in the area.
Most of Hnan Khar's roughly 1,000 inhabitants have abandoned the village due to the military's repeated attacks. This was the third time it had been targeted in the past month, following earlier assaults in June and August.
According to PDF sources, 15 junta soldiers were killed during a clash in Hnan Khar on September 10. Residents said 36 houses were destroyed in that battle, while another 14 were torched after regime forces opened fire on the village three days later.
During a raid in August, soldiers beat a 72-year-old man to death, according to local sources.
Gangaw Township has come under intense pressure since August 18, when the military suffered heavy losses after more than 40 military vehicles were hit by landmines while traveling through the township on the way to Kalay in Sagaing Region.
Another landmine attack just days later killed at least 30 regime troops, according to local resistance fighters.
Thousands of people have been displaced by the junta's offensives in the area, which began in late May.
Source: Myanmar Now