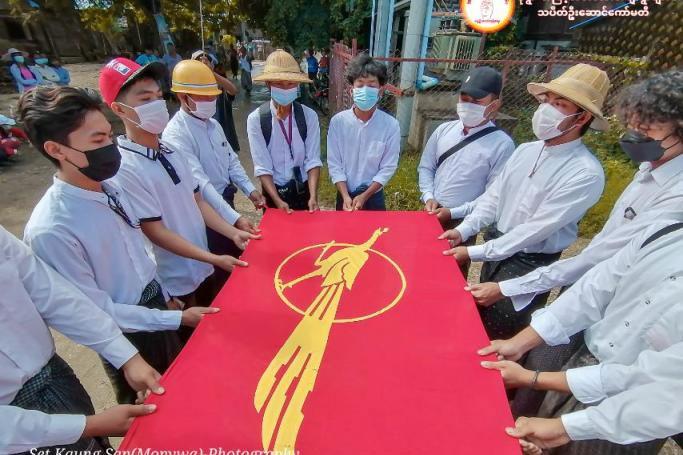 The Military Council
According to the junta newspaper, the prices of beans in Mandalay market went up due to the news that India would extend the import quota for Myanmar beans.
The military junta announced that 5315 detainees related to protests were released and the cases were closed for 502 people who contacted them.
The junta leader Min Aung Hlaing said that they had procured COVID-19 vaccines and other items worth 169 million US$. They have also spent 566 billion Kyats on renovation of hospitals and clinics as well as for supporting COVID centres and social organizations. In addition, they had used over 500,000 US$ for general expenditure. They have already prepared a budget for COVID-19 prevention.
According to the junta newspaper, the junta chief minister of Kachin State donated COVID-19 preventive items to the state COVID-19 control and emergency response committee.
According to the military junta, they arrested a total of 17 people who had thrown a grenade and opened fire at a military truck on patrol in Thandadar Ward in Sanchaung Township of Yangon Region.
According to the information team of the military junta, they have arrested the people who threatened with gunfire and committed robbery at two branches of the Global Treasure Bank in South Okkalapa Township and Mayangone Township.
The junta propaganda leader Zaw Min Tun denied that the military had killed and robbed a Christian pastor in Tantalan of Chin State.
The military junta announced that exercising the authority contained in Section (293-b) of Myanmar Trade and Shipping Act, sailors were regarded as key workers.
The National Unity Government (NUG)
For Batch 15 of basic military training for PDFs of the southern headquarters of NUG, the completion ceremony was held in a liberated area on Monday.
U Kyaw Moe Tun, Myanmar's Representative to the UN, called on international community and the UN Security Council to take action against the Myanmar Army that has been committing inhumane war crimes to the public, including women and children.
Revolution Activities
In Sagaing Region, there was fighting between the junta armed forces and Pale PDF. Reportedly, two PDF members were injured and 10 junta soldiers died.
In Latbadaung Taung area of Salingyi Township, local residents went around the village on Wednesday afternoon and expressed their desire for the victory of PDFs, chanting anti-junta slogans.
On Wednesday morning, a combined rally of Salingyi North and Yinmabin East marched for the downfall of the military dictatorship, holding signs with anti-junta slogans.
In Monywa, a traffic policeman was shot dead at the traffic lights on the corner of Union road and the bypass.
On Wednesday morning, a powerful rally of Monywa General Strike marched up to the downtown traffic lights and expressed their objection to the military dictatorship.
In Ayadaw Township, 200 junta soldiers raided Kyarbinhla and Magyikan villages. Reportedly, they arrested 30 women and slaughtered the pigs of the villagers.
On Wednesday, Kalay townspeople marched against the military dictatorship.
Via social media, CDM Captain Kant Ko or Captain Zero said that a military nurse was killed somewhere on Monywa-Saipyin road. The junta army took away his body and buried him secretively.
In Shwebo Township, anti-junta people in a village marched in support of the NUG on Wednesday morning.
In Kantbalu Township, Wunna Kyaw Htin, allegedly Pyusawti leader in Tandaw village, and his follower Mg Tun died from knife wounds between Basigyi village and Male village at about 12:30 pm Tuesday.
In Dawbone Township of Yangon Region, there was a bomb explosion at the administration office of Myothit Ward at about 10:50 am Wednesday. Reportedly, the junta armed forces blocked off the area and made inspections there.
In Insein Township, there was a bomb explosion at a traffic police booth in Danyingone Ward at about 8:00 am Wednesday. Reportedly, the booth was damaged in the incident.
On Wednesday morning, a combined rally of Thaketa Township Students' Union and Dawbone Township Students' Union conducted a guerrilla protest against the military dictatorship.
In Tightgyi Township, Thein Win Zaw, a 100-household leader in Bawdigone Township, was shot dead at about 9:00 am Wednesday. He was allegedly an informer to the junta and his father is a policeman.
In Dimawso Township of Kayar State, a MyTel telecom tower, owned by the military junta, fell down and was damaged, according to the photo of Karenni news source.
On Wednesday, Taungyoe National Defence Force (T.N.D.F) was established.
As 226-day protest, Mandalay Monks' Union marched against the military dictatorship on Wednesday.
On Wednesday, a rally of Mandalay variety forces marched up to 85 road and expressed their disapproval of the military watchdog.
In Longlone Township of Taninthayi Region, local residents of a village protested against the military watchdog on Wednesday.
In Mawtaung area, junta-appointed administrator Aye Min Ko was shot dead at about 6:00 pm Tuesday and another 5 people were arrested by Dragon Warriors.
In Magwe Region, Pakkoku General Strike marched for the end of the military dictatorship on Wednesday.
At about 10:00 pm Tuesday, a soldier had an argument with a captain at Taungoo inspection booth on Yangon-Naypyitaw expressway. Reportedly, he shot at his officer and escaped.
CDF announced that CDF Mindat conducted a guerrilla attack at the junta army stationed in Mindat on Sunday, leaving two junta soldiers dead and many others injured.
Ethnic Armed Organizations
Karen National Union announced on Wednesday that the junta armed forces had been carrying out invasions into the areas under their control.
In Thatone Township, a combined force of the junta army and BGF was attacked with mines by KNLA near Payitko village. According to KNU, 3 junta soldiers died.
In Dimawso Township of Kayar State (Karenni Area), there were two battles between the junta army and a combined force of Karenni Forces at Sanpya 6 Mile village on Tuesday. Reportedly, the military lost 4 soldiers. As for Karenni forces, they had no casualties.
Summary on 22nd September
The military junta have been giving favour to the businesses and the people like sailors that can earn foreign currency. Judging from this, they are likely to be in much need of foreign currency.
As for Sagaing Region, they had great momentum in public protests as well as guerrilla revolution and clearance activities of junta-pillars. On the other hand, the military conducted more oppression in the area. In Mandalay, various rallies protested against the military dictatorship as usual. Despite arrests of revolution groups in Yangon,
they gained momentum in protests by other forces, urban guerrilla revolution and clearing junta-pillars.
In Chin, Kachin, Shan North, Kayar and Kayin, there were battles. As for Kayin State, they might have heavy fighting as the junta armed forces invaded KNU areas.
Source Mizzima