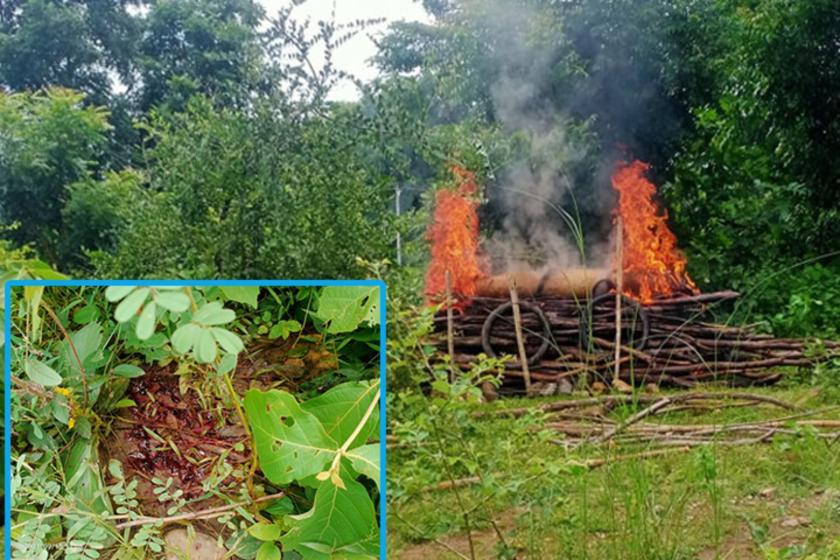 Junta soldiers on Tuesday evening detained and then killed a woman in Magway Region who was helping to raise funds for a local armed guerilla group fighting the junta, locals have said.
Ten troops in plainclothes stormed into Taung Bet village, Pauk Township, late at night and arrested Sandar Win, 42, as she tried to flee her house after jumping out of a back window, said a leader of the armed group, citing two eyewitnesses.
"She jumped with the money, our funds," he told Myanmar Now. "But she didn't escape and was arrested. She was later found killed near a hill at the north of the village. They seem to have also taken the money."
Sandar Win is believed to have been in possession of about 18 million kyat, roughly $10,000, donated to the guerrilla group, he added.
Taung Bet's residents heard a gunshot from outside the village about an hour after Sandar Win was arrested, another local said. He was among about 20 residents who went out the next morning to look for her and found her body, he said.
"Her whole face was wrecked. The head was blown out but the brains were still attached to the head," he told Myanmar Now.
There was a trail of blood about six feet long on the ground near where her body was found, and villagers believe she was taken there after she was shot, he said. There were no other injuries on her body and she was fully clothed, he added.
Sandar Win was active in anti-dictatorship protests in the southern part of Pauk and became the local guerrilla group's treasurer after organising fundraising drives, according to the group's leader.
She is survived by two teenage sons and her husband. Myanmar Now was unable to reach her family members. Her body was cremated on Wednesday morning at a local cemetery.
Thousands of people from 15 villages in Pauk, including Taung Bet, fled their homes earlier this month in fear of military assaults following the National Unity Government's declaration of war against the junta.
Pauk is one of Magway Region's anti-dictatorship strongholds. Sandar Win is among 11 people, including two guerrilla fighters, to have been killed by junta soldiers there since the February 1 coup.
At least 1,093 civilians nationwide have been murdered by the coup regime, which is keeping 6,533 political prisoners in custody, according to recent figures from the Assistance Association for Political Prisoners.
Source: Myanmar Now