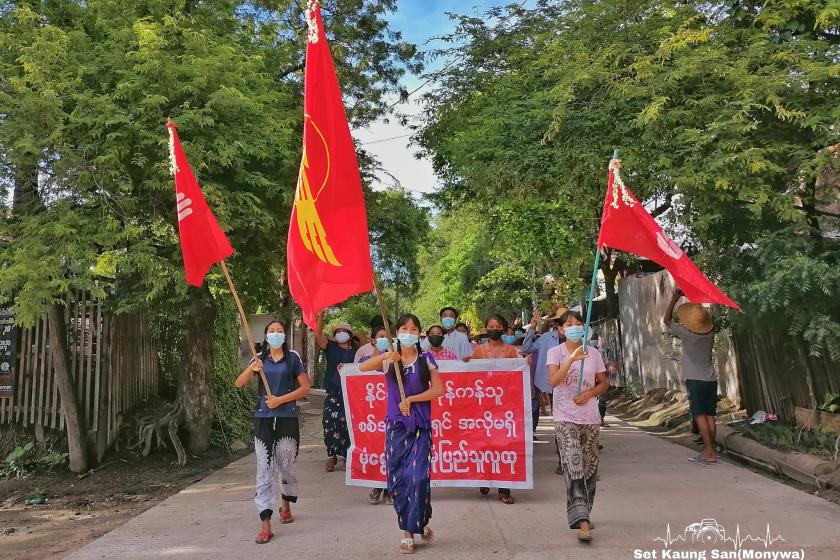 Junta soldiers killed a civilian and injured two others during an attack on a village in Sagaing Region on Wednesday evening, a resident has told Myanmar Now.
Troops  arrived in trucks to make arrests in several villages on the boundary between Monywa and Chaung-U townships at around 8:30pm.
They detained four people from the village of Monyway, and two from Puyitkone village, the Monyway resident said.
Eleven military vehicles came from Monywa, the regional capital, and three from Chaung-U for the raid, he said.
"When the military vehicles arrived from the south of the village, the villagers turned off the lights," the resident said. "Then a car coming from Monywa arrived and fired immediately. The car entered the village, and when they found a place where people in our village were hiding, they shot at it."
Myint Htay, 47, was fatally shot in the onslaught. Another two villagers were injured, both with bullets to the leg. One of the injured was among the four people detained in Monyway.
"They fired a machine-gun," the resident said. "We couldn't retrieve the victim. We didn't have any weapons to resist them. When they shot we had to run. The one who died was left at the scene."
When the soldiers left the village at around 6am, residents came back to try to collect Myint Htay in the hope of saving him, but he died shortly afterwards.
The leader of the Chaung-U People's Defence Force (PDF) told Myanmar Now that the junta may have attacked Monyway after informants misreported that there were PDF fighters in the village. The junta has not released a statement about the attacks.
Most residents have now fled Monyway and Puyitkone, as well as Kyaymon, a third village that was targeted in Wednesday's raids, and are taking refuge in nearby areas.
Source: Myanmar Now