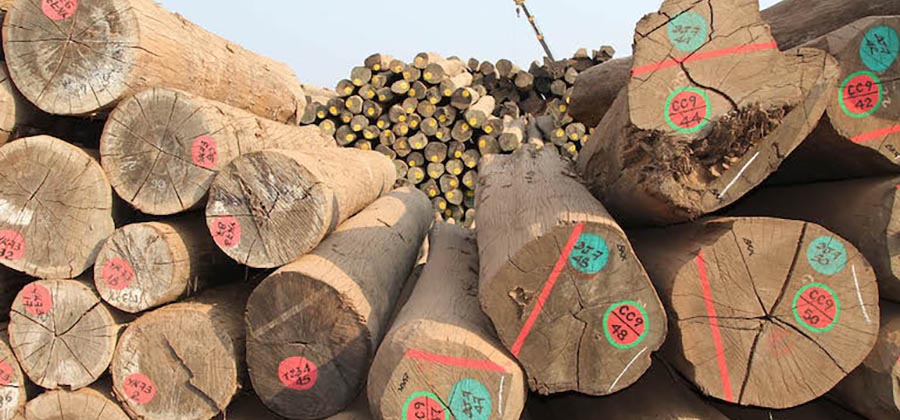 Myanmar's military regime will auction off 12,500 tons of hardwood on September 16 and 30 as it seeks to raise hard currency to fund its coup.
Myanma Timber Enterprise, the state-run entity which controls Myanmar's timber sales, said the timber for sale includes 1,500 tons of teak logs and 1,000 tons of sawn teak. The auction will be held in Yangon's Insein Township with buyers bidding online.
In May, the junta held three separate auctions at which nearly 10,300 tons of timber were sold for around US$5 million, followed by another auction in June of more than 14,000 tons of timber.
The wood sold in May and June reportedly came from a stockpile of 200,000 tons of illegally-harvested timber seized by the now-ousted National League for Democracy government.
The UK and US-based Environmental Investigation Agency (EIA) said in a statement in May that the military regime is seeking an injection of hard currency by selling off thousands of tons of illegal timber to international markets.
Faith Doherty, EIA Forests Campaigns Leader, said, "Why would this state enterprise do this, other than to obtain desperately-needed hard currency to continue the junta's brutal persecution of the people of Myanmar".
Since the February 1 coup, the US, Canada, EU and Britain have sanctioned the regime's resources and environmental conservation minister, U Khin Maung Yi, as well as other relevant individuals in Myanmar, to prevent the junta from exploiting the country's resources.
However, twenty-seven Italian timber traders imported teak into the EU from Myanmar despite clear regulations, in the form of the EU Timber Regulation, which prohibit such imports, said the EIA in a September 1 report. The Italian traders imported wood worth between US$1.5 million and US$1.77 million from Myanmar between March and May this year.
"By continuing the trade, these companies are effectively supporting the military junta and its brutal repression of the Myanmar people as well as the destruction of the country's forests," said the EIA's Doherty.
The parallel National Unity government has warned that it will blacklist any bidder and government staff involved in the junta's timber auctions.
Source: Irrawaddy