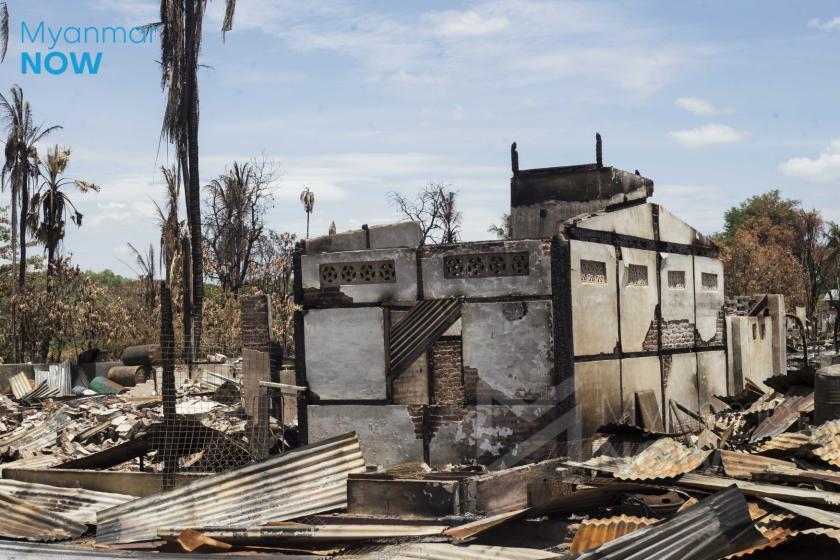 Around 5,000 people from 15 villages in Pauk Township, Magway Region, fled their homes out of fears of military assaults following the National Unity Government's declaration of war against the junta on Tuesday.
While there have been no clashes in recent days between the military and local resistance forces in Pauk Township, in mid-June junta troops burned down nearly all of the homes in one of the 15 villages in question: Kinma. Some 1,000 residents from the village have been displaced ever since.
In an official statement released days later, the military council blamed the burning of Kinma—which killed an elderly couple—on "terrorists who wanted donations" and condemned the media for spreading "false news" about the event.
A member of a Pauk-based resistance force told Myanmar Now that the residents of the township had been traumatised after the military terrorised Kinma and Wun Chone and were trying to avoid experiencing that again.
"Some have already brought their stuff into the forests and some are already spending the night there. The villages are all essentially empty now," the guerrilla group member said, estimating that one-third of the area's total population of 15,000 was in hiding.
"They are all prepared to run as soon as the military arrives. They're all scared of getting robbed, so they've taken all their valuable items and clothes," he told Myanmar Now.
The military's occupation of Kinma, Wun Chone and Taung Bet villages continued until September 2.
"Everyone, including myself, is worried about air raids. We cannot believe a single word that the military says. We don't know how cruel they will get. We need to be prepared to flee once it's necessary. We will face whatever comes our way until the end," a woman from Taung Bet said.
Villages in Pauk Township have become known for their resistance efforts. The military council had been trying to clear the anti-coup forces from the area with raids since at least two junta-appointed administrators were assassinated in the township by guerrilla forces in recent months.
Source: Myanmar Now