Thousands who fled the town as it was seized by the military are also in desperate need of supplies, aid workers say
More than 10,000 people fled the town of Mindat in southern Chin State in recent days after the Myanmar military launched an all-out offensive there in a bid to crush an armed uprising led by local residents, an aid worker said.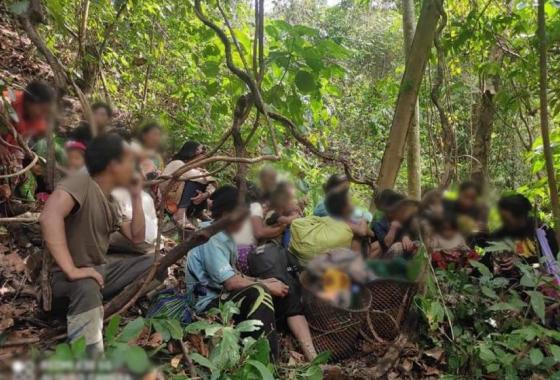 Those displaced from their homes are in desperate need of support. "The most important thing that is needed is emergency food supplies," said Salai Pat Gyaung, who is leading the aid effort.
"Rice, oil, salt, ngapi, and various kinds of beans," he said, referring to a type of fish paste widely used in Myanmar.
"There are motorcycles and cars ready to go back and rescue those who are trapped inside Mindat," he added. "But the petrol has run out. We need supplies."
He called for people to donate supplies and to transfer money for the relief effort. Locals have so far donated tents and other equipment worth about 4m kyat.
Thousands more are still trapped inside Mindat, according to a statement by the National Unity Government.
They have had their water and electricity cut off, said a member of the Mindat People's Administration Team, which was set up by locals who refuse to be governed by the junta's administrators.
"The municipality has cut off the water," the member said, requesting anonymity. "The main roads are also blocked, so no food supplies can come in. People have to survive on what they have left."
Seven camps in the region are now hosting 3,000 people who have fled, mostly children and the elderly, Salai Pat Gyaung said. The other 7,000 are sheltering in nearby forests or other towns and villages.
Aid workers are trying to gather all the displaced people in one place. They have been in contact with organisations including the UN to try to secure food supplies, Salai Pat Gyaung said.
"The Burmese soldiers are not just fighting against those who are armed, but also torturing unarmed civilians," he said. "They have been arresting youths who are not part of the battle and torturing them. They then go into whichever house they like and take whatever food supplies they like."
The number of civilian casualties from the fighting in Mindat is unclear. On Monday a ten-year-old girl was hit with a bullet and severely injured in her neck while hiding inside her home as the junta's armed forces shot at houses and shops.
Also on Monday, a 13-year-old child who fled the fighting reportedly died after falling off a cliff during an epilepsy attack, a member of the Mindat branch of the Chinland Defense Force told Myanmar Now. The girl is being treated at a hospital in Mandalay.
Clashes erupted in Mindat in late April after a crowd gathered to demand the release of several detained protesters and a member of the regime's forces reportedly shot at someone.
Local resistance fighters have killed dozens of soldiers in ambushes since then. They retreated from the town on Saturday after the military sent helicopters full of reinforcements.
On May 13, the junta declared martial law in Mindat and intensified its attacks on the town with long distance artillery, machine guns, and shoulder-held rocket launchers.
Soldiers also arrested local residents and used them as human shields. The resistance fighters are armed with traditional Tumi hunting rifles, double-barreled guns, and home-made mines.
During fighting from May 12 to May 17, the resistance suffered 12 deaths and 30 injuries.
Locals estimated that there were about 30 deaths on the military's side. Myanmar Now was not able to confirm these numbers independently.
Source – Mizzima