"Like on previous days, the protesters were chanting and singing on the road. Nobody expected the bloodshed," said Ko Akar, a protest leader in Yangon's Hlaing Tharyar Township.
Akar, who for safety concerns asked that his real name not be used, was speaking to Frontier about the grisly developments in his home township on March 14, when security forces killed at least 58 people in the westerly Yangon township, according to a local network of volunteer medical groups. At least 70 were killed in protests nationwide that day, the deadliest so far since the February 1 military coup.
Akar said the mood was celebratory at 9am, when protesters gathered by the Htate 3 bus stop on Hlaing River (or "Nyaungdon") Road. Within an hour, thousands had arrived at the site, one of three large protest camps to have sprouted up in Hlaing Tharyar in recent weeks – and which till that day had been allowed to gather and protest military rule without bloodshed.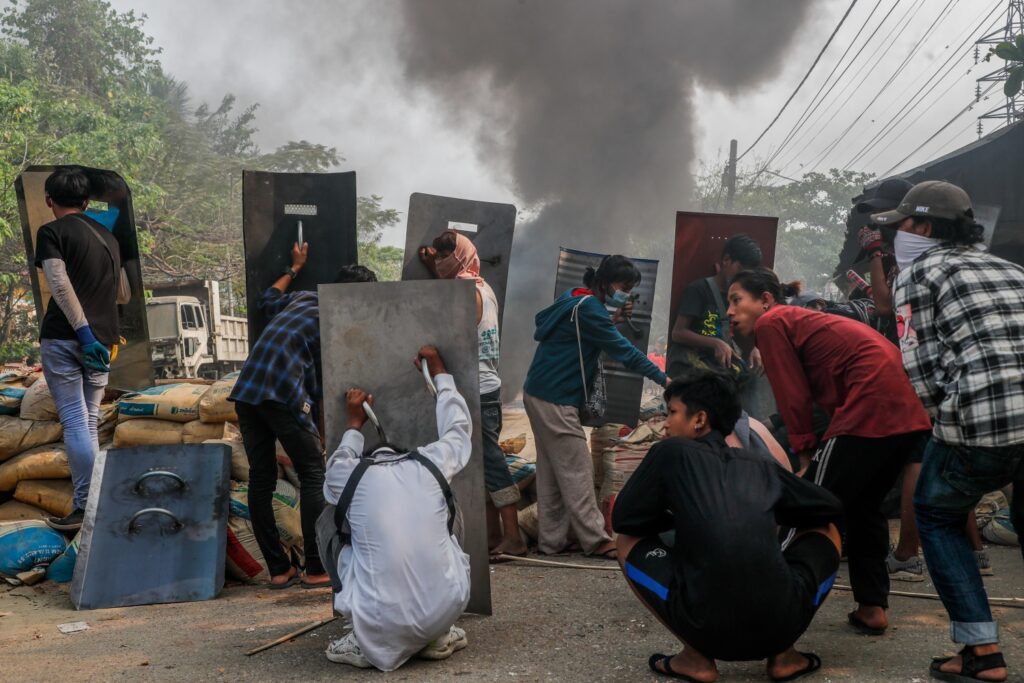 By 10:30am, the crowd had merged with that of another protest camp further to the west, at the Htate 1 bus stop at the foot of the Aung Zaya Bridge, one of three bridges connecting Hlaing Tharyar with Yangon proper.
"There were tens of thousands of protesters on the road," said Akar. "They sang and chanted together. I felt goosebumps seeing all that unity."
However, at about 11.30am Akar said that news spread among the protesters that dozens of police and military trucks had been spotted crossing the Bayintnaung Bridge to the south. Using megaphones, protest leaders announced that a crackdown was imminent, and said that if people wished to return home, they were welcome to do so.
"But the protesters did not hesitate, and still sat there and protested," Akar said.
Sniper fire
Much of what unfolded that day has been recounted already, by a Frontier photojournalist on the scene and by others. The first contingent of police arrived at about 1pm. At 3pm, more police and military trucks crossed Aung Zayar Bridge from Insein Township to strengthen their forces. Ko Min Min Aung, a protester in Htate 1, said they tried to trap demonstrators in a pincer movement.
"We ran into the nearest ward. They didn't enter, but they were shooting tear gas into the wards. They stood and waited at the end of the lane and if they saw any movement or people in the ward, they shot," Min Aung said, adding that live rounds and stun grenades were used.
Akar carried many of the injured to nearby volunteer medical teams. Most, he said, were close to death, having been shot in the head or the abdomen.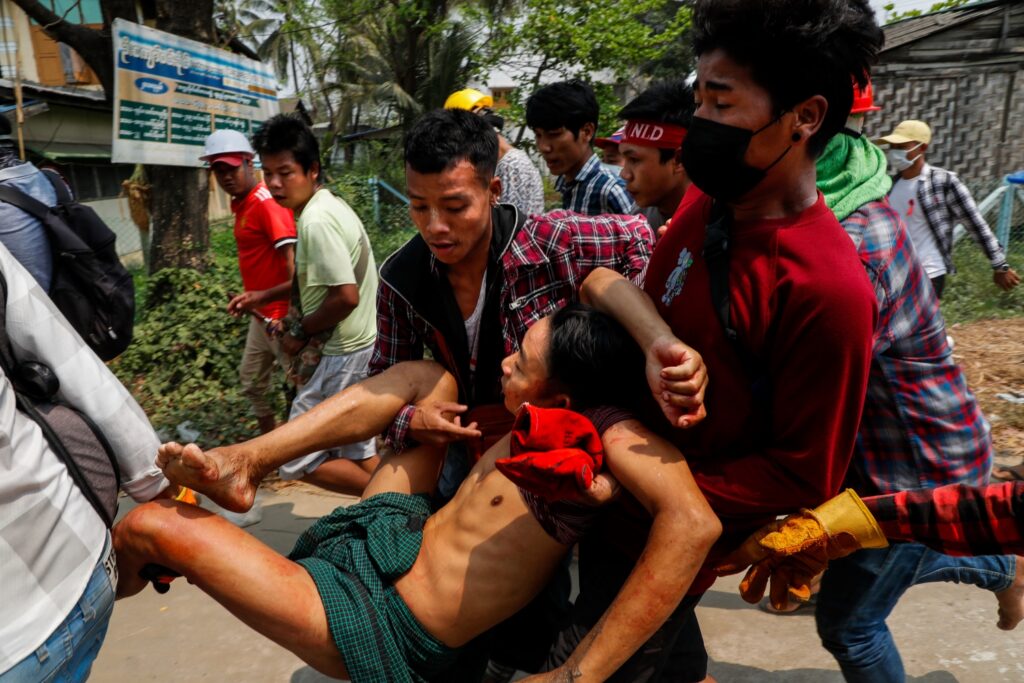 "Snipers shot at protesters from trucks," he said. "Most of those being shot were already dead before they could be treated."
Frontier's photojournalist also confirmed the army's deployment of snipers.
The chaos that ensued made it difficult to establish how many had been killed in Hlaing Tharyar in real time. That night, media agencies reported 22 deaths, but as reports continued to come in the following afternoon, that number jumped to 58.
A member of a volunteer medicalgroup based in Hlaing Tharyar, who asked not to be named, told Frontier that their organisation had calculated the same number of deaths by combining their figures with those of other volunteer groups working on March 14. He said that gravely injured had been taken to private and public hospitals in Hlaing Tharyar because police had closed all bridges to other big facilities in Yangon, such as Yangon General and North Okkalapa hospitals.
He said the real number of deaths at Hlaing Tharyar could be higher since some families had carried dead bodies to their homes, rather than to aid teams or hospitals, and the military and police may have taken some dead bodies with them.
Volunteer medics are now in hiding. The team member said they had also taken down the signboard from their office and hidden their vehicle from public view because police are hunting down volunteer groups who helped injured protesters in the area.
A doctor at a private hospital in Hlaing Tharyar told Radio Free Asia on March 14 that they had received 12 injured people and one dead body as of 9pm on March 14.
"They were shot only with live rounds. Their bones were totally shattered," the doctor said, adding that a girl of 11 or 12 years of age was shot in the leg.
When gangsters cry
While protesters in other parts of Yangon have adopted tactics similar to the mass youth demonstrations in Hong Kong – retreating when security forces advance, and avoiding direct confrontations – protesters in Hlaing Tharyar chose to fight back and reinforce makeshift barricades that towered above people's heads.
This is in keeping with the working-class township's reputation for tough characters, which often casts the neighbourhood in a negative light. Hlaing Tharyar is nicknamed the "zoe" (gangster) township because of the presence of criminal gangs, whose members are heavily tattooed and sometimes carry swords and knives.
Protester Min Min Aung said many known "gangsters" were at the head of the protest columns on March 14, and Frontier saw tattooed men armed with swords that included long, traditional Myanmar blades called nyat gyi daung, as well as Nepali kukris and Japanese katanas.
Their bravery that day has transformed their local reputation in the township. Residents told Frontier that while they had once feared being robbed, assaulted or threatened by these men, they now viewed them as protectors against the real danger: the police and army, who began raiding homes in the days that followed.
"I never thought gangsters cried," Min Min Aung said. "They wept as they shouted, 'Those motherfuckers shot our people. We will kill them for this,' before advancing on the security forces with their swords."
But the swords could not defend against live rounds.
"I heard just two police were injured. One was cut on his hand by a sword," Min Aung said. "The protesters also used slingshots and Molotov cocktails to fight back."
Several Chinese-run and other foreign-owned factories were set ablaze shortly after the killings. Protesters and residents all denied responsibility; some suggested that soldiers were to blame, while others pointed to factory owners wanting to claim insurance.
"It is possible they burned the factories themselves," protester Ko Kyaw Gyi said of the security forces. "Protesters did not have time to burn factories because they were too busy [trying to survive] the brutal crackdown."
However, Frontier has seen no credible evidence linking the arson to security forces or factory owners. Moreover, several activists told Frontier the day before that they would burn down Chinese-owned factories if any protesters' blood was spilled, and several protesters held up posters that morning saying the same thing. China is regarded by many in Myanmar as being the main sponsor of the coup, and activists have threatened online to destroy other Chinese assets in the country, including twin oil and gas pipelines stretching from the Rakhine State coast to China's Yunnan Province.
'They lack all humanity'
The bloodshed that day only seemed to strengthen the junta's determination to crush the uprising. By nightfall it had declared martial law in Hlaing Tharyar and in another industrial suburb, Shwepyithar Township. This declaration handed administrative and judicial power to the Yangon regional commander, and meant that anyone arrested for a wide range of offences could now be tried summarily at a military tribunal.
In the morning, martial law was extended to include four more outlying Yangon townships – North Okkalapa, North Dagon, South Dagon and Dagon Seikkan – as well as five in Mandalay city – and tens of thousands of migrant workers began fleeing Hlaing Tharyar for their home villages. Some feared the introduction of martial law would presage a more sustained crackdown, with mass arrests and household raids, although many migrants were already in the process of leaving because of mass factory closures and layoffs since the coup.
U Pyone Cho, 60, who left Hlaing Tharyar for Danubyu in neighbouring Ayeyarwady Region that day, said he had seen hundreds of cars and motorbikes carrying people and luggage to the countryside, particularly towards the Ayeyarwady Delta. Many Hlaing Tharyar residents moved there from the delta in search of jobs in the township's factories, particularly after Cyclone Nargis devastated large parts of Ayeyarwady Region in 2008. This migration increased over the last decade with the blossoming of the garment sector , which largely exported to Europe. Already battered by COVID-19, the coup has sent the sector into its death throes.
Pyone Choe said he left because he was afraid police and soldiers might enter wards and houses to search and occupy properties like the army does in war zones.
"Nobody can be sure they won't do it. They lack all humanity," he said.
Ma Marlar, a chairperson of the workplace union at the Mian Yi Garment Factory, told Frontier that workers at Chinese-owned factories are afraid to go to work even if their jobs still exist, and are being told to return home by their families living elsewhere in the country.
"Nobody knows if the factories will be set on fire [again], so workers are hesitant to return. They feel unsafe, [and] if they stay in Yangon without paid work, they won't be able to afford food and accommodation," she said.
She said the ward where she lives, in eastern Hlaing Tharyar, has been eerily quiet for the last two days.
"Our street used to be crowded, with a lot of shops. Now all that is gone and there are only a few people walking on the street. It felt like Thingyan," she said, referring to the Myanmar New Year holiday in mid-April, when most businesses close and migrant workers leave Yangon for their home towns and villages.
Akar, the protest leader, said he doesn't want to persuade migrant workers to stay because he understands the difficulties they are facing. However, he said he is worried that protests in Hlaing Tharyar will fizzle out as a result.
Despite the bloody crackdown of March 14, hundreds of Hlaing Tharyar residents have kept protesting in the days since, during which at least four people have died. However, these have been closer to flash protests, with participants fleeing at the approach of security forces. The numbers have also dwindled day by day, as fear and out-migration take their toll.
However few people are out on the streets, Akar is confident that protests will continue every day until the people overthrow the military regime. He said the protesters were justified in using force against police and soldiers, who had killed their comrades – echoing the words of Mahn Win Khaing Tha, appointed by elected MPs as interim vice president in defiance of the junta, who said in a public address on March 13 that people had "the right to defend themselves" against aggression from security forces.
"We peacefully protested, and peacefully demanded the release of our leaders," Akar said, "but they killed us. They are not humans; they have no laws, rules and ethics."
"It's time we fought back."
Original Source – Frontier Myanmar ( https://www.frontiermyanmar.net/en/i-never-thought-gangsters-cried-hlaing-tharyar-locals-shaken-but-defiant/ )