An amazing piece of bad news is welcoming this morning. That bad news is not just for me. For the whole of Myanmar. This is bad news for all Burmese people.
The military has seized power. There is no valid reason. They have seized power without any unrest in the country. To be sure, we did not make any mistakes in Myanmar (Burma), nor did we make any major mistakes in the last election.
As a citizen of Myanmar (Burma), I was quite exciting in anticipating the new candidates to be elected by the party that won the landslide in the new parliament. But, the Burmese Army (they call themselves the Burmese Army) detained the state counselor Aung San Suu Kyi, President U Win Myint, and other party members. That's it. That is all we know.
This whole morning there was a commotion with that news. The country's elected officials have been arrested with the pretext of rigging the election. Even as an ordinary adult, I know this is very childish. They have to complain to the Union Election Commission. Voting fraud is just a reason to arrest our leaders.
"Please buy rice after the coup, buy some oil," the crowd said in my quarters. I have to go to work today because today is payday. The road was calm. There are also buses. The trains regularly operate twice a day during this Covid-19 period. The problem is that the internet connection was cut off shortly after arriving at the office. Thank God that It's good to have Wi-Fi in the office. But the banks closed. At ATMs, people are overcrowded. At my house, my mother will look for to buy rice around.
My mother is 60 years old. She knew better than we did how to survive under the bad regime of the junta. That is why she has been active in collecting food since the military coup. No internet access (some internet services are still available), banks are closed. Shops are closed. I was worried when people were scared. Salary could not be paid because the banks closed but some money is still at home. I didn't queue ATM for the release of others.
TV channels were shut down. Especially BBC, DVB which broadcasts political news. That bad news was popular on Facebook. They (The Military Group) are going to getting worse and worse for the people in the country.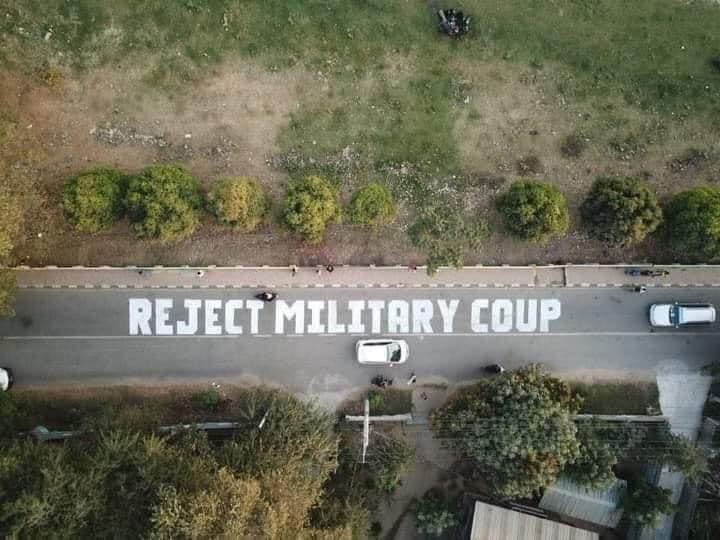 They mentioned a coup is not a coup. They said it is a coup d'etat for temporary. But the idea is the same and everyone knows they are going to have the same junta procedures in the past. They (General Min Aung Hlaing) seized power for a while as they mentioned and they will promise that the election will be held again. Then they will break their promise and they will rule the country with many strict disciplines. They will sell the country's resources to China. These ideas are known to almost every generation of us.
A similar coup took place in 1988. they then ruled and tortured the country for 27 years. A group of them seek their interest from the country's natural resources and others project. All Burmese people already know how they will torture the people. We are praying for Mother Suu's release. With hope, yes, hope.
What I did know before was that the Union Solidarity and Development Party (USDP), an opposition party to the National League for Democracy (NLD) led by Aung San Suu Kyi which had won a landslide victory in parliament before the coup, held frequent press conferences. It creates protests. Yes. It is very obvious that they are creating protests. They rent grassroots cadres and they paid 5,000 kyats per person. They brought them in a car and called them to the place that they plan for the protest. They ordered those grassroots cadres to shout that the vote was not fair. After their fake protest time was up, they paid for it and call again if they need to do more protest. They celebrated their fake protest, again and again, to make propaganda spread internationally. The Union Election Commission already exists to address vote-rigging. If they can prove it, they will able to complain. The Union Solidarity and Development Party (USDP), a group of people who took off their military uniforms (retired), and formed a party, are called father groups. A Ba (Sir) is also known as a dictator. It is not surprising that this coup took place when they joined forces with the military. The people's vote has been suppressed by force of arms.
I did not want to go back to my childhood in the Military governed Era. At that time, we lived under a military dictatorship. It's too bad. But I was afraid to know it was bad. It's clear why I did not want to know. I lived with fear.
>>>>>