In Sagaing, a region of Myanmar's central Dry Zone, a township of farmers has emerged as a stronghold of the country's pro-democracy uprising.
"Even when we had no modern weapons, local people defended themselves using tumi rifles, swords, catapults or anything we had," said Bo Lynn Yaung, leader of the Khin-U Special Force. "Since March 2021, we have opposed the military continuously, even when armed resistance was not heard of elsewhere."
But this fierce resistance has also led the military to deploy its usual brand of collective punishment, targeting armed groups and civilians alike.
"In terms of loss and destruction, Khin-U is the hardest hit by the military," said Lynn Yaung, claiming the people maintained their "revolutionary spirit" despite being outmatched by the military's superior firepower.
According to the Khin-U Township True News Information Group, a Facebook page run by anti-military resistance groups, at least 2,646 houses have been burned in the township's 59 village tracts since the February 2021 coup, as of December 4 last year. Meanwhile, 240 resistance fighters and civilians have allegedly been killed with another 150 arrested.
Lynn Yaung said fighting has worsened since November last year and the True News group said 770 houses were burned between November 17 and 28 alone, with 10 resistance fighters and 13 civilians killed.
Ma Thidar*, a woman living in Mon Hla village, recounted one of those military attacks, which took place on November 24.
"The military made an air strike first. Then the ground column came in and torched the houses. Because they attacked from the air, young [People's Defence Force] members could do nothing but retreat. They weren't able to give us assistance," she said.
PDFs are armed resistance groups under the authority of the parallel National Unity Government, a cabinet appointed by lawmakers elected in the November 2020 election, which the military refused to recognise, instead seizing power a few months later. In practice, though, the term PDF is often used to describe any armed group formed in opposition to the coup.
"We feel pain in our hearts," said Daw Myint*, a woman in her 50s whose home in Mon Hla was burned during the November 24 attack. "We had to save carefully to be able to build our homes. They are so cruel and pitiless, they burned it to ashes. It's just unthinkable. We are in tears every day thinking about our situation."
Daw Myint lived with her 25-year-old daughter in the house they had only finished building in 2019.
"My husband died when my daughter was six years old. To save enough money to build a house, my daughter and I worked for about 10 years in Hpakant, Kachin State. It cost over K10 million. It wasn't easy," she said.
Daw Myint worked as a cook in the prominent jade mining town, while her daughter brought in more money as a clerk.
Mon Hla residents said over 100 of the village's 700 houses were destroyed during the raid, with two civilians killed and another three injured.
Mon Hla has a community of Roman Catholics who trace their descent to Portuguese settlers who arrived in the 17th century. It is the birthplace of Yangon's archbishop, Charles Maung Bo, who said he was "grief-stricken" by the attack.
But the cardinal also faced widespread criticism after he was pictured celebrating Christmas with junta leader and military commander-in-chief, Senior General Min Aung Hlaing. Charles Maung Bo presented the general with a picture of an idyllic house in the countryside with the phrase "home sweet home".
Lynn Yaung said the military has troops permanently stationed in five places in the township – Ywa Thit Kon, Ma Daung Hla, Pyin Daung, and May Gyi Ton villages and Khin-U town. Some other villages also host pro-military Pyusawhti militias.
Lynn Yaung said the military uses these bases to launch attacks across the township. "People from villages near to those where military troops are stationed are always on the run," he said.
Of the people whose homes were burned down, Lynn Yaung said around half are still unable to return and are sheltering at nearby monasteries, schools and farms, while the rest are living with relatives or friends whose homes were spared.
In the meantime, the Khin-U Special Force is providing food and clothes to displaced people with support from public donations.
"There is still a need for aid for fire victims, especially food. When the military troops were approaching, some had to flee without bringing anything – clothes, blankets or food," Lynn Yaung said.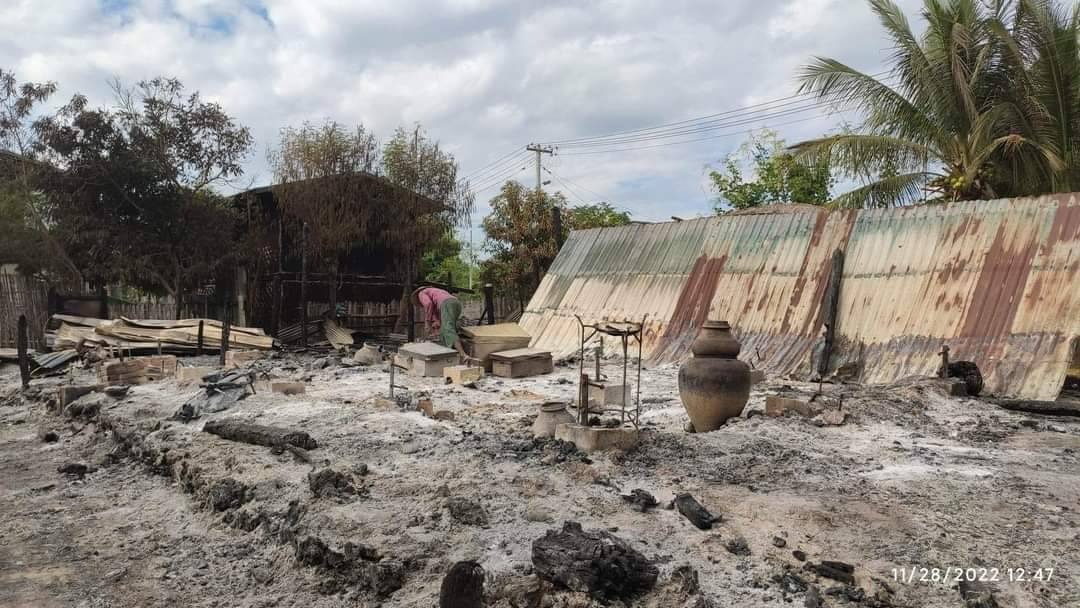 Lingering anxiety
Those displaced by arson attacks and fighting in Khin-U live in constant fear that the military will return, as well as uncertainty about how to move forward with their lives.
"I don't know what to do in the future," said a woman from Paung Le Kone village in her 60s, whose home was burned by the military on December 18. "I'm only thinking about when I will have to run away again and how I will escape."
It's a similar story for Daw Myint, who is now living in a small hut, temporarily built on her sister-in-law's property.
"I can't even think of how to go on with my life," she said. "I lie awake at night thinking about what I need to do to build a new house, when in reality I can't do anything at all. I feel completely powerless."
"We have survived by hiring out our labour," Daw Myint said, explaining that they only make around K2,000 (US0.70) for half a day's work. "We don't have a regular income because most of the work is done by machines. We work only when the farm owner calls us."
But landowners are also suffering. A woman from Tha Nat Sein village who owns four acres of paddy farmland said her crops were spoiled this year because she needed to flee from military attacks and couldn't tend the fields.
"The paddy dried up and withered," she said.
She said the military burned down around 85 of the village's 100 houses, including her own, during a raid on November 21.
"We can't even build a hut let alone another house. We don't know when the military troops might come back. If they come again, we must flee again," she said. "No one thinks about building a house to settle down. We must live temporarily with relatives or neighbours. It's like we're a parasite on society."
The people of Khin-U traditionally grow rice, beans, vegetables and betel, but even those who successfully yielded crops this year are struggling to find buyers willing to enter a war zone to collect the goods. "I got about 400 baskets of monsoon paddy this year, but my house was burned down," said another woman farm owner in Mon Hla. "I need money for shelter and food. I want to sell my paddy, but I don't know how. Brokers don't come here to buy anymore."
The woman from Tha Nat Sein village said the PDFs are helping as much as they can, but the villagers still need more support. "PDFs come to distribute food and clothing, but they can't afford to find shelter for us. I understand they are in a difficult situation too," she said.
But despite all that her family and community have suffered, Daw Myint is not prepared to accept peace at any price. "I pray for the revolution to succeed," she said. "I want nothing more than victory."
Source: Frontier Myanmar