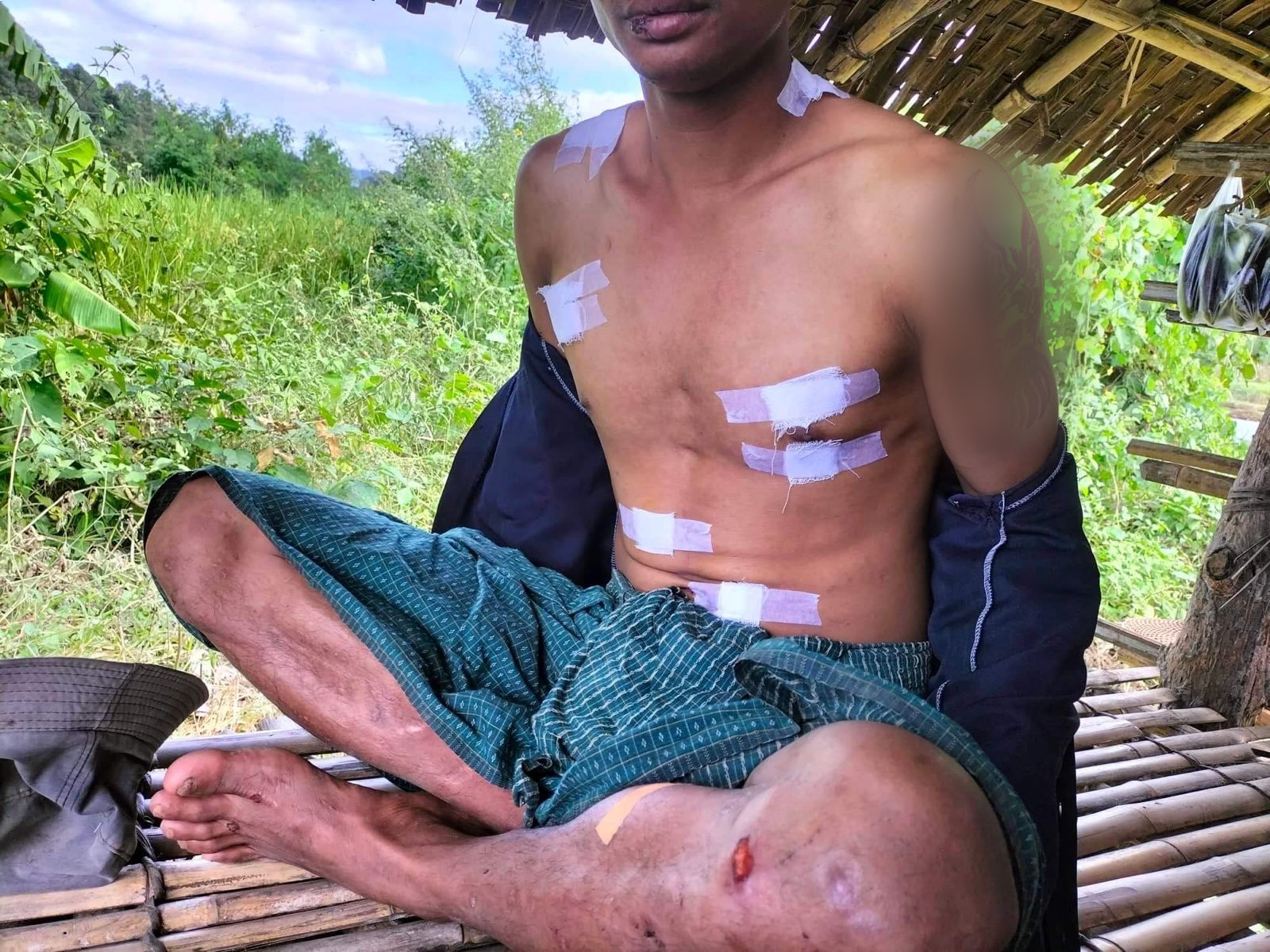 One of two young men forced to work as porters for the military in Chin State escaped on Wednesday morning in a neighbouring township in Magway Region, according to the People's Defence Force (PDF) in Saw Township, where he was found.
Both ethnic Chin men in their 20s had been abducted from Kanpetlet Township in southern Chin State by a convoy of some 70 soldiers two days earlier, allegedly after the military found photos of guns on their mobile phones, according to an information officer for the Saw PDF.
The officer said that the man who escaped had visible injuries inflicted by the junta troops.
"He was pretty weak when we found him. He couldn't even walk properly and his lips were swollen," the information officer told Myanmar Now.
The man reportedly told the Saw PDF that he was kicked repeatedly in the face by Myanmar army soldiers wearing combat boots, as well as beaten with barbed wire and prodded with hot metal irons.
Members of the resistance force treated the man's wounds and told Myanmar Now that he was recovering in a safe house.
The other man abducted from Kanpetlet is still believed to be in military custody.
Myanmar Now tried to contact the military council's information department for comment on the Saw PDF's allegations, but the calls went unanswered.
Resistance forces based in Saw and Kanpetlet have been known to coordinate their attacks on junta troops moving between the two townships.
The Chinland Defence Force in Kanpetlet has been ambushing military convoys travelling toward Saw, and the Saw PDF has done the same to those travelling toward Kanpetlet, planting makeshift explosive devices on the road to intercept their route.
The Saw PDF claimed that while the 70-soldier convoy which abducted the two porters was headed towards Saw, another unit of some 100 junta troops was moving from Kyaukhtu town in Saw towards Kanpetlet at the time of reporting.
Source: Myanmar Now