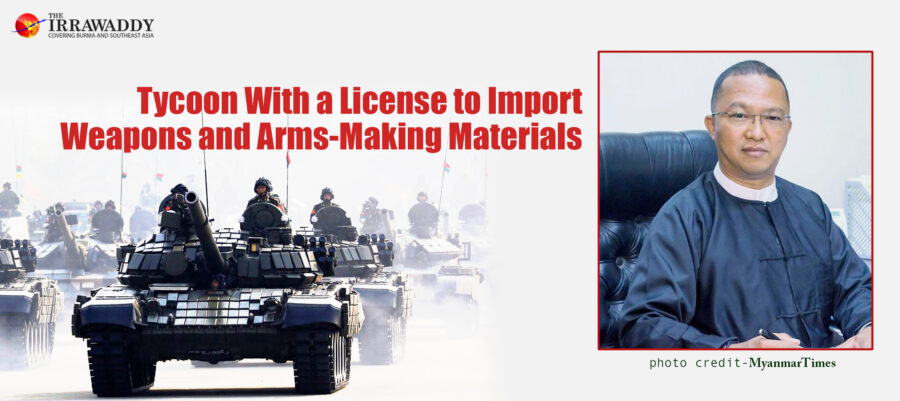 U Sitt Taing Aung, the owner of Suntac Group of Companies, is one of the military cronies who supplies weapons to the army.
He has close ties not only with the top brass of Myanmar's military but also with other major arms suppliers including chairman of Htoo Group of Companies U Tay Za, U Aung Hlaing Oo of Myanmar Chemical & Machinery Co and Dr. Naing Htut Aung of International Gateways Group of Company Limited, according to business sources in Yangon.
U Sitt Taing Aung and coup leader Senior General Min Aung Hlaing have developed ties over the promotion of Buddhism in Myanmar, according to sources.
U Sitt Taing Aung's father is U Aung Phone, who served as forestry minister under the previous military regime's State Peace and Development Council chaired by military dictator Than Shwe.
"It was U Sitt Taing Aung who raised U Tay Za up in the logging business. U Sitt Taing Aung has long engaged in logging and importing arms from Ukraine and other countries. But he keeps a low profile and is less well known than U Tay Za," a source told The Irrawaddy.
U Sitt Taing Aung is also Mexico's honorary consul to Myanmar. He has a military import license to import raw materials needed to build arms factories and make weapons, a businessman said.
He also owns Yatanarpon Aviation Support Co., which imported aircraft parts from Ukroboronservice, a Ukraine state-owned company, for Myanmar's military in 2020 and 2021, according to Justice for Myanmar.
Yatanarpon Aviation Support Co. is registered at the same address as Myanmar Consultancy, a major supplier of fighter jet parts, air surveillance radar components and other military equipment for Myanmar's military. Dr. Naing Htut Aung was a director at Myanmar Consultancy Co.
Myanmar Consultancy was an online exhibitor at the MAKS 2021 air show in Russia, which Snr-Gen Min Aung Hlaing attended in person.
U Sitt Taing Aung is also currently the chairman of the Myanmar Steel Association.
Source: THE IRRAWADDY